An own goal about 10 minutes before the final whistle in the Southeast Asian Games football final Thursday in Laos prevented Vietnam's 50-year dream for the Games gold from coming true.
Vietnam defender Mai Xuan Hop made an own goal in a bid to stop a cross. The ball hit his shoulder and left seriously-injured keeper Bui Tan Truong no chance. The keeper's shoulder was badly injured after hitting against a Malaysian player earlier.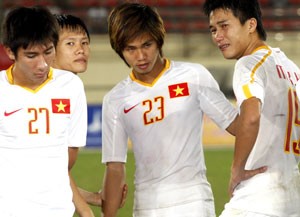 Mai Xuan Hop (R) cries after the final. He was the defender who made the own goal in Vietnam's 0-1 loss to Malaysia (Photo: SGGP)
All Vietnamese fans at the Main Stadium of the National Sports Complex in Vientiane became totally quiet at that moment.
Then, Vietnam striker Mai Tien Thanh got a good chance in the smaller box but from a cross by defender Tran Dinh Dong, Thanh's touch pushed the ball over the bar.
In the first half, Malaysia keeper Allawee made a brilliant save to deny Thanh's header in the 24th minute.
During the first half, Malaysia played defensively and challenged Vietnam's patience in their attacks. Suddenly, the former changed the tactics after the break, pressing their opponents close to the other side of the field. The game became a very tough time for Vietnam, who came into the final as the favorites.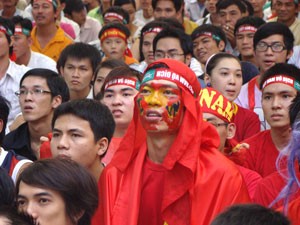 Vietnamese fans seen sad in Ho Chi Minh City right after Malaysia took the lead in the final minutes in the game against Vietnam (Photo: SGGP)
It was a revenge for Malaysia who lost to Vietnam 1-3 in the group stage on Dec. 6. The victory ended Malaysia's 20-year wait for the SEA Games gold medal since 1989, but destroyed Vietnam's 50-year dream for such a gold.
In the 1959 SEAP Games (currently SEA Games), the southern Vietnam squad became the champions. The title has never come to Vietnam again, although the Vietnamese national squad under Portuguese coach Henrique Calisto won the 2008 ASEAN Championships last December. This December in the Laos Games, his U-23 Vietnam team drew defending champions Thailand and defeated Malaysia, East Timor and Cambodia in the group stage, then beat Singapore in the semifinals.
It was Malaysia who sent Thailand home early on Dec. 11 with a 2-1 win thanks to two late goals.
Before the final, Malaysia coach Rajagopal said he thanked Vietnam for defeating his team in the group stage because the loss helped his team become stronger and improve themselves much.
Vietnam coach Calisto said the final was the worst game his team played during the SEA Games campaign. His team lost by themselves, he said, mentioning bad luck in the own goal.
In the knock-out for the bronze medal, U-23 Singapore beat U-23 Laos 3-1.