The Thai-invested paint manufacturer 4 Oranges – the sponsor of the 2008 Golden Ball Awards – is delighted at its participation in football in Vietnam, where the national team last year won the ASEAN championships for the first time in almost 50 years, said a company executive.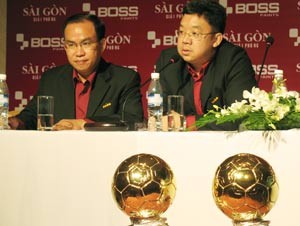 Chalermsak Pimolsri of 4 Oranges (R) speaks at Wednesday's press conference held to announce the final candidates for the 2008 Golden Ball Awards (Photo: Tuong Thuy)
4 Oranges marketing director Chalermsak Pimolsri was speaking at a press conference Sai Gon Giai Phong newspaper held in Ho Chi Minh City on Mar. 4 to announce the last eight candidates for the 2008 Golden Ball Awards – the titles for the best female and male players of the year voted by football experts, coaches, reporters and media organizations.
"The reason for our decision to sponsor the 2008 Awards is we've thought that it was a 'golden' year for Vietnamese football as Vietnam won the ASEAN championships. And these are valuable awards," he said.
"Through the results we've witnessed, we're very pleased with our sponsorship. Vietnamese are big football fans."
He told reporters that his company's sponsorship for the 2008 Golden Ball Awards is part of "sport-oriented activities that we've set out."
Last year, 4 Oranges was the sponsor of the football club Boss Binh Dinh, using its paint brand Boss for this sponsorship. The contract has been cancelled after the club decided not to use "Boss" in their name anymore.
Chalermsak said in addition to the Golden Ball Awards, Boss Paint would sponsor other sport events this year. "We'll tell you the details later," he told reporters.
Remarking the list of the final candidates for the awards, he said, "Any candidate deserves the Golden Ball title because they've all played very well. It's a very hard decision to make."