A charity football tournament called the Doosan Asian Dream Cup at Thong Nhat stadium this Wednesday with the participation of many stars in "Park Ji Sung and Friends" team like Park Ji Sung, Nakata, Kazu Miura and especially Xiah Joon Su from JYJ music band actually brought much satisfaction to Vietnam fans.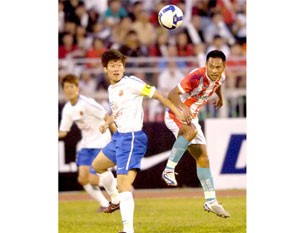 Park Ji Sung is contending fearlessly with a footballer from Navibank Saigon football club for the ball (Photo:Ng.Nhan)
This Wednesday saw the first time that Navibank Saigon football team played in the home ground with the largest number of spectators ever due to the effect called "Park Ji Sung and Friends". 
Navibank Saigon football team with a perfect squad could easily overwhelm the away team in the first half with a 4-2 lead.
The away team, namely Park Ji-Sung and Friends, whose footballers entered the competition with sudden inspiration, played better in the second half and shortened the gap with a 3-4 result thanks to the goal of Park Ji Sung.
Two teams took a calm and wonderful way of playing and spent time performing with the ball, rather than committing fouls. Many spectators agreed that Navibank Saigon football team could have gained better result in V-League if they had played like what they manifested in the 90-minute match this Thursday.  
Despite the absence of the famous left back Patrice Evra of Manchester United Football Club, the performances of Park Ji Sung, Nakata, Kazu Miura, Chong Tese, Matsui on the football ground are good enough to satisfy the football fans in HCMC. The excitement from the spectators, however, considerably rose up when Xiah Joon Su entered the match in the second half. The 20-minute appearance of Joon Su in the match seemed to draw much more attention than that of Park Ji Sung.
"The fund for Asian football development is a helpful activity I am constructing to bring happiness to everyone. I hope that I can invite more friends to Vietnam to exchange football experiences," said Park Ji Sung in the press conference before the match.