GUANGZHOU, China (AFP) – Four-time Olympic champion swimmer Kosuke Kitajima and South Korean superstar Park Tae-Hwan made their Guangzhou debuts Sunday as the pair look to halt the Chinese Asian Games juggernaut.
China dominated the opening day of action, winning 19 of the 28 gold medals, and while more of the same is expected, Japan and South Korea have other ideas.
Japan clawed one back by taking the first title of the day when Yuichi Hosoda won the men's triathlon, completing the 1.5km swim, 40km bike race and 10km run in 1hr 52min 13sec.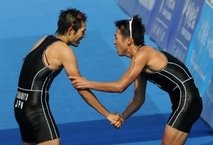 Yuichi Hosoda of Japan (right) shakes hands with second placed compatriot Ryosuke Yamamoto after the men's individual triathlon final. AFP
Compatriot Ryosuke Yamamoto claimed silver and Kazakh Dmitriy Gaag took bronze.
Thirty-five gold medals are on the line on Sunday with Kitajima and Park spearheading Japan and South Korea's hunt in the pool.
Park, who won seven medals at the 2006 Asian Games, easily qualified for the final of the 200m freestyle to set up a showdown with Chinese rival Zhang Lin, although it was China's Sun Yang who was fastest through the heats.
"Sun Yang performed well today," said Zhang, adding: "I'll try my best to beat other competitors and will need to be close to a personal best time."
Kitajima is aiming for a third straight Asian Games 100-200m breaststroke double since Busan 2002 when he won the 200m with a world record.
He is also competing over 50m here and qualified for the final later in the day in fifth, behind fastest qualifier Li Xiayan of China.
"I will do my best to win for the Japanese team and beat out big rivals Japan," he said.
China and Japan are trying to outdo each other in the pool after they were locked at 16 gold medals apiece at the Doha Games with South Korea trailing in a distant third.
They beat Japan 4-2 on the opening day to give then an edge leading into Sunday's six gold medal events.
More top level action will be seen at the weightlifting arena with Asian lifters dominant in the men's 62kg category, with North Korea's Kim Un-Guk winning the world title in Turkey recently.
He defeated Chinese world record holder Zhang Lie by 5kg and their rematch will be a highlight.
The women's 53kg showdown should also be a classic with two former world champions and the current Olympic champion in action -- China's Li Ping, Kazakh Zulfiya Chinshanlo and Thailand's Prapawadee Jaroenrattanatarakoon.
Other medals will be decided in billiard sports, canoe/kayak, track cycling, dance sport, equestrian, gymnastics, judo, shooting, soft tennis, and wushu.
While fans have turned up to the swimming, weightlifting and shooting in numbers, other venues have been mostly bare despite Guangzhou having a teeming population of at least 10 million.
This was evident at cricket's international debut in China on Saturday, with a just a smattering of spectators despite claims that all tickets had been sold out.
"Frankly, we don't know what happpened, but we are trying to find out," Asian Cricket Council spokesman Shahriar Khan told AFP.
"It was definitely not a nice feeling to see empty stands for what was a historic moment."
Games organisers were not available to explain the low spectator numbers.
Despite this, International Olympic Committee chief Jacques Rogge talked up Guangzhou's ability to host the Olympics.
"Guangzhou definitely has the skill to do that," he said when asked by Chinese media about the southern metropolis one day hosting the summer Games.
"Guangzhou would have the expertise and experience from these Games."