Hoang Quy Phuoc won a gold medal and set a national record at the Budapest Swimming Open in Hungary on Thursday.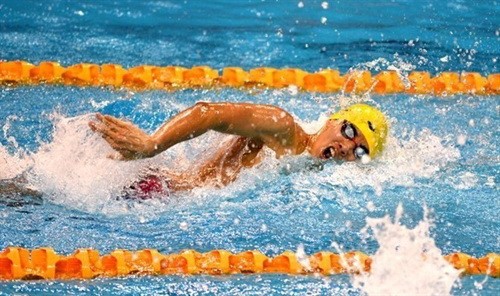 Hoàng Quý Phước takes a gold medal from the Budapest Swimming Open in Hungary.Attachments area
Phước finished first in the men's 400m freestyle event with a time of 3min 55.85sec, which is the new record among Việt Nam's swimming champions. The old record of 3:57.09, set at the ASEAN championship two years ago, also belonged to him.
The result was better than the Olympics' B standard of 3:58.51 but was still far from the A standard of 3:50.40.
This was his second medal at the tournament. He bagged a silver in the 200m freestyle the day before.
His teammate, Lâm Quang Nhật, came second at 3:57.24, his personal best result.
The Vietnamese team have now grabbed one gold and three silver medals at the event, which will close today.