MAGALIESBURG, South Africa, June 30, 2010 (AFP) - Cristiano Ronaldo, the world's most expensive footballer, may find playing for Portugal too heavy a burden, under-fire coach Carlos Queiroz implied on Wednesday.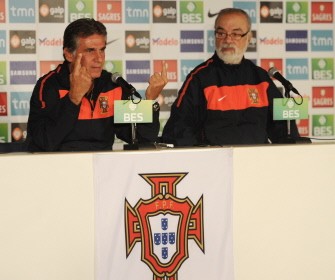 Queiroz (L) gestures during a press conference at Bekker High School in Magaliesburg on June 30, 2010. AFP
Ronaldo once again failed to reproduce his club form on the international stage as Portugal went out of the World Cup on Tuesday, losing 1-0 to Spain in the last 16.
While the 25-year-old Real Madrid star has denied criticising Queiroz for the team's exit, he revealed in comments on a website owned by his agent that he felt like a broken man and had never felt such sadness.
However, his emotional comments failed to move Queiroz, who along with Ronaldo was savaged in the Portuguese press on Wednesday.
The player was criticised for being virtually anonymous during the finals while the coach was accused of a lack of imagination and ambition.
"We are not unaware of those remarks, but we are not here to be friends with the players," said the 57-year-old Queiroz, who got to know Ronaldo well during his time as Sir Alex Ferguson's assistant at Manchester United.
"One must never allow anyone placing himself above the best interests of the national side.
"Portugal needs Ronaldo, and Ronaldo needs the national side. But if this shirt (the Portuguese strip) unnerves some players, they have no grounds to be there."
Queiroz's side conceded only one goal in their four matches but only scored in one of them - the 7-0 humbling of North Korea.
"If I have to spend all my life telling players that they must suppress their emotions then I will do so," said Queiroz, who had already been criticised during Portugal's qualifying campaign which saw them only reach South Africa through the play-offs.
Queiroz has had his authority challenged with veteran midfielder Deco in particular voicing openly his displeasure at the tactics deployed by the coach in the opening 0-0 draw with Ivory Coast.
Deco laid bare the tensions in the dressing room after the defeat by Spain when asked if there was a good atmosphere.
"Between the players, yes," said the Brazil-born veteran.
Meanwhile, Real Madrid boss Jose Mourinho came to the defence of Ronaldo on Wednesday, saying he won't allow the superstar to be a scapegoat in Spain next season.
"Ronaldo can go away on vacation with piece of mind. Next season, I will not permit him to be weighed down with all the responsibilties of one team," Mourinho told the Portuguese Lusa news agency.
"In my teams, when we win, we all win, but when we lose, it is me who loses."