Vietnam's number one striker Le Cong Vinh has officially become a member of Portugal top flight club Leixoes as the contract was signed on August 24 in the European country.
Vinh made his first Leixoes appearance the same day with jersey No. 29. He will start his European career on September 1 and will play for the club until December 31 on the short-term loan deal.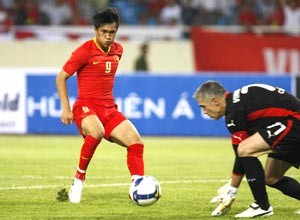 Vietnam captain Le Cong Vinh (L) approaches Greek's Olympiakos captain keeper Antonios Nikopolidis during their friendly in Hanoi on May 14, 2009. Vietnam won 1-0. (Photo: SGGP)
The 23 year-old from V-League Club T&T Hanoi will be the first Vietnamese footballer to play for a European club.
Late December last year, Vinh headed home the winning goal in the ASEAN Cup final for Vietnam against Thailand to send the nation crazy and earn his place in football history.
The striker will be released for Vietnam's two 2011 Asian Cup qualifiers against Syria in November.
Vietnam's national team coach Henrique Calisto, a Portuguese, had earlier recommended the striker to Leixoes, who are keen to raise their profile in Asia. The club reportedly see the four-month loan as the first step.
Former national striker Le Huynh Duc, who currently coaches V-League champions SHB Danang, was the first Vietnamese to sign with a foreign club when he went to play for China's Lifan for a year.