MANCHESTER, England, April 8, 2010 (AFP) - Manchester United manager Sir Alex Ferguson insists the Premier League is still the best in Europe even though there will be no English clubs in the Champions League semi-finals for the first time since 2003.
With Liverpool, Chelsea and Arsenal already out, United's quarter-final exit on away goals against Bayern Munich on Wednesday ended England's interest in Europe's elite club competition at an unusually early stage.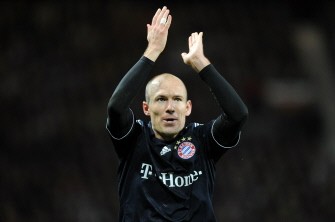 Bayern Munich's Dutch midfielder Arjen Robben celebrates scoring during the UEFA Champions League second leg quarter-final football match Manchester United vs FC Bayern Munich at Old Trafford in Manchester on April 7, 2010. AFP PHOTO
After dominating the Champions League for much of the last decade, the Premier League's big four could be on the verge of surrendering their supremacy as some of Europe's other superpowers grow increasingly influential.
From the 2003-04 season until this term, at least one Premier League club had made it to the last four and the division had provided three of the four semi-finalists for each of the last three seasons.
Since 2005 there has been an English representative in the final every year, with Liverpool and United winning the competition in 2005 and 2008 respectively.
But all that has changed in the current campaign. A greater diversity of talent saw teams from Russia and France make it to the last eight.
Barcelona, victors against United in last season's final, are the competition's most dominant force and look favourites to retain the trophy after their Lionel Messi-inspired rout of Arsenal in the quarter-finals.
Jose Mourinho's Inter Milan, who dumped out Chelsea in the last 16, will have something to say about that, while Bayern will fancy their chances of a first final appearance since 2001 when they face Lyon in the semi-finals.
Yet, although England's finest will be licking their wounds at home when the final takes place in Madrid next month, Ferguson is convinced the Premier League is still the most competitive top-flight league in Europe.
Asked about the English failures this season, he said: "I'm sure you will read something into that. All the English teams were expected to get to the semi-finals, as they have been doing over the last seven years.
"But I don't think that casts a shadow over the English league, it is still the best league in Europe and a very competitive league.
"You don't always get what you want in life and we are all suffering from the same thing now."