Vietnamese's hopes of qualifying for the semifinals at the 25th SEA Games rest on the outcome of its clash with Malaysia on December 6.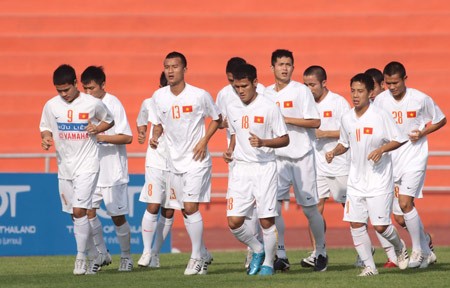 Vietnam's U23 team train ahead of their match with Malaysia December 6 at the 25th SEA Games in Vientiane, Laos. (Photo: SGGP)
A win would carry Vietnam into the semifinals with seven points from Group A. They would then play a remaining match with Cambodia, a team Vietnam is favored to win against.
The danger is that anything less than a victory against Malaysia may cost them a place in the knockout stage.
The result of the match could see the battle for the semifinals go down to the wire or even be decided by goal difference.
Thus, Vietnam does not have much breathing room in the high stakes game. If they win against Malaysia they are assured a spot in the semifinals. If the match ends in a draw or Vietnam loses, the team could quickly be returning home.
Stoic Vietnam coach Henrique Calisto was with his players during a training session yesterday. A tense atmosphere hung over the team with the pressure mounting.
Earlier, Calisto said Vietnam must win against either Thailand or Malaysia. The result of the match against Thailand was ultimately a 1-1 draw.
Many are also worried about Vietnam's ability to take a strong offensive position.
Vietnam and Malaysia have a history of tight battles, however, with Vietnam winning many of the most difficult matches in the past.  
Malaysia's coach K. Rajagopal said that the outcome of the Thailand-Vietnam game demonstrated the equal strength of both teams. It will be a tense situation in the remaining fixtures, especially against Vietnam and Thailand, he said. We are aware of our position if we win, lose or draw against these two teams, Rajagopal added.
He said he prefers to take it one match at a time and focus on the team's mission against Vietnam first.
Only four days ago, the Malaysians were in the driver's seat after their opening round victory over East Timor (11-0), but the situation has changed as defending champions Thailand and Vietnam hold the advantage after having played their opening round match to a 1-1 draw. This means Rajagopal's men cannot afford to lose against Thailand or Vietnam.
Even though Malaysia holds a better goal average over Vietnam at the moment, things could change in the final round fixtures as Vietnam plays Cambodia while Malaysia wrap up their campaign against eight-time winners Thailand.
In group B, host Laos tied with Myanmar 1-1 while Singapore had a 2-2 draw with Indonesia. As a result, each team receives one point each. The competition between the four teams for the two semifinal places is expected to be fierce.
Also on December 6, Vietnam's women's football squad will play their first match against Malaysia at 3:40 pm.
Related news:
Vietnam crushes East Timor 4-0
Vietnam off to good start at SEA Games