BORDEAUX, April 7, 2010 (AFP) - Lyon goalkeeper Hugo Lloris drew praise from both his coach Claude Puel and Bordeaux's Laurent Blanc after a crucial late save sealed Lyon's path to the Champions League semi-finals.
Lyon led 3-2 on aggregate with three minutes to play of Wednesday's second leg here when the France international produced a stunning one-handed stop to prevent Wendel from scoring with a header that would have sent his side through on the away goals rule.
It followed on from his fine showing in Lyon's 3-1 first-leg victory last week and Puel conceded that his team were indebted to the 23-year-old.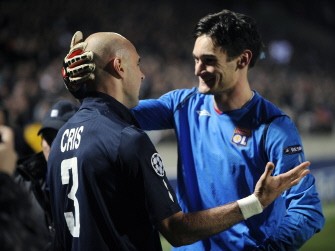 Lyon's defender Cris (L) celebrates with goalkeeper Hugo Lloris after winning the Champions League quarter-final football match against Bordeaux on April 7, 2010. AFP photo
"The match was decided by details that went in our favour. Hugo saved the match point," he said.
Asked if his goalkeeper had been Lyon's hero, Puel replied: "Yes. He's been performing well since the start of the season. He's at his level, which is phenomenal."
A Marouane Chamakh goal on the stroke of half-time had put Bordeaux within touching distance of the last four for the first time since 1985 and Blanc identified Lloris as a key factor in their aggregate defeat.
"We know him," Blanc said. "Lloris confirmed again that he has lots of talent and he's part of an experienced team. His personal experience, over the two matches, played a big part in Lyon's qualification."
Blanc admitted in his post-match press conference that Bordeaux had ultimately been made to pay for an uncharacteristically error-strewn defensive showing in their 3-1 first-leg defeat at the Stade Gerland.
"If we have regrets, it's from the first leg," he said. "In the second leg, as I told the players, they played the match I expected from them.
"We had planned for certain scenarios. The one thing we didn't get was the second goal. But in the content of the match, we did exactly what we planned to do. Over the two legs, it's in the first leg that the regrets are the biggest."
Puel's side will face Bayern Munich in what will be the club's first ever Champions League semi-final after three previous failures at the quarter-final stage.
The seven-time French champions held strong amid Bordeaux's increasingly desperate late surges and Puel congratulated his charges for gathering themselves after temporarily losing their way in the first half.
"We started well but bit by bit we dropped back too much and conceded too much ground," he said.
"We couldn't carry the ball out of defence, we lost the ball too quickly and conceded just before half-time, which hurt us.
"But in the second half we were more balanced and got the ball out better, even though we didn't make lots of chances. Despite the difficulty we were very solid and courageous, without being able to really go for it."
Looking ahead to the tie against Louis van Gaal's Bayern side, which will take place on April 21 and 27, Puel said he anticipated two open games.
"If they've beaten Manchester (United), we know that going to Manchester is hard," he said.
"We know German football, what their players are like, their clubs, the national team. It will be hard. They have players coming back like (Franck) Ribery and (Arjen) Robben but we have good players too. Both teams will have their chances."