MADRID, Aug 16, 2011 (AFP) - French striker Karim Benzema believes Real Madrid can still win the Spanish Supercup on Wednesday despite a home draw with bitter rivals Barcelona in the first clasico of the season at the weekend.
"Two great teams faced each other, but honestly, Madrid deserved the win," he told the sports daily AS about the 2-2 first-leg draw at the Bernabeu on Sunday.
"We did much more than Barca, but, hey, we know we have the chance to win tomorrow in Barcelona and lift the SuperCup."
The second leg of the SuperCup -- between league champions Barcelona and King's Cup winners Real -- takes place at the Camp Nou on Wednesday, with Barca the clear favorites.
But Benzema believes that the team created by coach Jose Mourinho, now in his second season at Real, "now knows how to play the Barca" of Pep Guardiola.
"There are many things that have changed since last season," he said. "This time, we had control of the field and we didn't let them play. That's exactly what's required against an opponent like that."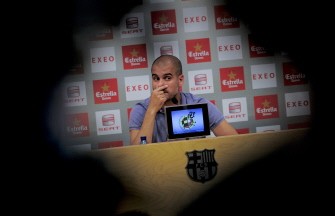 AFP - Barcelona's coach Pep Guardiola gives a press conference on August 16, 2011, at the Camp Nou stadium in Barcelona, on the eve of the Spanish Supercup football match against Real Madrid
Benzema was out of favour with Mourinho for much of last season, and was often left on the bench in favour of Argentine Gonzalo Higuain and Portuguese star Cristiano Ronaldo.
Asked if he is now Real's first-choice striker, he replied "what I'm doing is working to have the role permanently".
"This is the challenge that lies ahead of me. In a team like Madrid, each situation is won every day. That's why there is never room for complacency."
Mourinho recently tipped the 23-year-old France international to enjoy a more successful third season at the Bernabeu.
"He has everything required to have a great campaign," the star Portuguese coach said. "He looks much better than he did this time last year. I think I have managed to convince him that my way is the best way."
Benzema told AS he "never had any problems with Mourinho. I talked to him and now I understand perfectly what is expected of me".
Mesut Ozil gave Real a 13th-minute lead on Sunday before David Villa and Lionel Messi put Barcelona ahead at the break. Xabi Alonso levelled the tie nine minutes into the second half.