MADRID, March 4, 2011 (AFP) - Real Madrid star striker Cristiano Ronaldo will be off 10-15 days after picking up a thigh muscle injury in the team's 7-0 thrashing of Malaga, the club announced Friday.
Ronaldo had a scan at a hospital near Madrid which confirmed a grade I, or minor tear, in the left thigh muscle, Real said.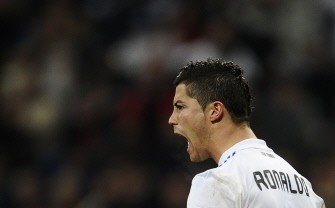 Cristiano Ronaldo celebrates after scoring against Malaga at the Santiago Bernabeu Stadium on March 3, 2011 in Madrid. AFP
The injury had an estimated recovery time of "10-15 days depending on clinical developments," the club said.
Ronaldo left the field injured in the 76th minute on Thursday night after scoring his third goal in the match against Malaga at the Bernabeu, putting Madrid seven points behind league leaders Barcelona.
The Portuguese striker had earlier posted an optimistic message Friday on his Twitter account, hoping to be ready for Sunday's game against Racing Santander.
"I got injured last night after scoring 3rd goal but it doesn't look bad. I hope to be ok for next game and help the team," the message said.
But the message was taken down later in the day.
Ronaldo's hat-trick placed him level with Barcelona's Lionel Messi at the top of the goalscoring charts on 27 goals.