LONDON, Nov 29, 2010 (AFP) - Harry Redknapp believes Tottenham Hotspur's comeback to claim a narrow 2-1 victory over Liverpool provides further evidence of his side's claims to be Premier League title contenders.
Spurs recovered after falling behind to a Martin Skrtel first-half goal, eventually securing the win with Aaron Lennon's added time effort that delighted the home crowd at White Hart Lane here on Sunday.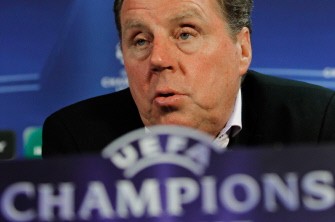 Tottenham Hotspur's manager Harry Redknapp
The victory came at the cost of injuries to Rafael van der Vaart and Younes Kaboul who both face spells out of action with torn muscles.
But having seen his side claim three points eight days after they fought back to win at north London rivals Arsenal after falling two goals behind, Redknapp insists he has no reason to alter his view that the title race is the most competitive for several seasons.
"It's wide open," said Redknapp, whose side lie fifth, six points behind leaders Manchester United.
"Of course we've got a chance. How can I sit here and say we can't when we've beaten Liverpool and won at Arsenal? If it's only Chelsea or United who can win it, why are we bothering?
"Chelsea, a month ago, looked absolute certainties but they're struggling to get results. They'll get stronger when they get some key players back, but so will we."
Now all Redknapp has to do is convince his squad.
"I don't know if the players believe it," he added. "I've said: 'Listen, there's no reason why we can't have a go'. I said last year we should target the top four.
"I'm not going to say we'll win the championship now, but we've got a chance. Arsenal and Manchester City have a chance, too.
"Chelsea and United are favourites, but nothing's impossible."
Redknapp's side appear to have developed a greater resilience than some previous Spurs teams and recovered on this occasion despite Jermain Defoe missing a penalty shortly before a Skrtel own-goal made the scores level.
"We just have that belief that we can come from behind," Redknapp said. "When we missed the penalty, I did wonder whether it was our day or not."
Dutch international van der Vaart's latest injury came as a blow to Redknapp, who added: "Rafa's torn a hamstring -- he felt it tear -- so that doesn't look too good.
"He's missed a pre-season or was away at the World Cup and not played many games. When you're fitness is a bit low, it's hard to get up to speed. He's going to be out. He'll have a scan."
Kaboul will also undergo a scan although his loss will be tempered by the return of Michael Dawson next week.
"Younes felt he might have torn a muscle in his hip," said Redknapp.
"He felt that go. Michael's on his way back, which is important because we've only got two central defenders now."
Liverpool manager Roy Hodgson was frustrated with a defeat compounded by the loss of centre-back Jamie Carragher.
"We think it's a dislocated shoulder," said Hodgson. "I don't know how long he'd be out, but it's a serious injury.
"We'll miss his leadership skills, and we've got Daniel Agger still injured and we're not overly blessed with centre-halves."
Hodgson added: "We've been pretty lucky with injuries up to now with very few soft tissue injuries but the injury to (Liverpool captain) Steven Gerrard came at the wrong time."
Midfield dynamo Gerrard remains sidelined after damaging his hamstring playing for England but Hodgson expects the Liverpool hero to return soon.
"They're two big losses, Jamie and Steve. But it's happened. Steven is making big strides. Jamie we'll have to wait and see."