LONDON, Nov 3, 2010 (AFP) - Harry Redknapp warned Europe's top clubs to keep their hands off Gareth Bale after the Tottenham winger underlined his growing reputation by inspiring a 3-1 win over Inter Milan in the Champions League.
Although Rafael van der Vaart, Peter Crouch and Roman Pavlyuchenko scored the goals that killed off the European champions at White Hart Lane on Tuesday, it was a formidable display from Bale that laid the groundwork for a night to remember for the north London club.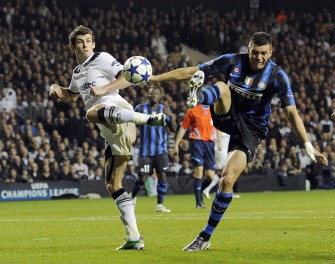 Tottenham Hotspur's Welsh defender Gareth Bale (L) vies with Inter Milan's Brazilian defender Lucio (R) on November 2, 2010. AFP
Bale had served emphatic notice of his prodigious talent by scoring a hat-trick in Spurs' 4-3 defeat against Inter in the San Siro two weeks ago, but Rafael Benitez's team clearly hadn't heeded the warning.
The 21-year-old, who joined Spurs from Southampton in 2007 after becoming the youngest player to represent Wales aged 16, was unstoppable as he made a mockery of Maicon's reputation as one of the best right-backs in the world.
After van der Vaart's first half opener, Bale set up second half goals for Crouch and Pavlyuchenko with scintillating runs that left Inter's defenders trailing in his wake.
It was a tour de force that drew comparisons with Ryan Giggs -- another Welsh wing wizard -- and left Redknapp reaching for the superlatives to describe what he had just witnessed.
"Gareth is getting better and better. He was amazing," Redknapp said. "They're just doing some drug testing now, the dope testers are here, and I hope they're testing him!
"He's against a right-back who is rated as the best right-back in the world and what he's done to him over the last two games is amazing.
"He's got everything. He's got great ability. It's not just his pace, he can run all day. He's got the ability to cross, his left-foot is great on the run, he can shoot, dribble, head it, he's got everything.
"He's also a great lad. You couldn't meet a nicer, lower-maintenance boy than him. He just comes in and plays his football.
"I gave him a few days off because he had been playing so well. I said go abroad and he did, he went to Cardiff to stay with his mum! That's the kind of boy he is."
The world's biggest clubs are certain to try to lure Bale away now he has announced his presence as a major player in Europe's elite club competition.
Even Inter director Luis Figo, in his day one of the world's best wingers, was in awe of Bale's display, but Redknapp insists Tottenham have no need to sell their young star at any price.
"He said to me, 'Bale is just amazing, he killed us twice'. When Figo says that, it's got to be good, because he was such a fantastic footballer," Redknapp said.
"As far as selling him, the people who own Tottenham are not poor people. It is not a selling club. It is a well-run club. He doesn't need to go abroad, he is better off here."
Bale's heroics helped Tottenham to the top of Group A and within touching distance of a place in the last 16. A victory over Werder Bremen in their next match would seal qualification if Inter beat FC Twente on the same night.
While Tottenham savoured one of the greatest nights in the club's history, Inter boss Benitez was left to reflect on a chastening return to England following his spell at Liverpool.
Inter briefly threatened to snatch a draw when Samuel Eto'o reduced the deficit to 2-1 in the 80th minute, but Bale finished them off, leaving Benitez to admit he would certainly get into his team.
"If he played like that, why not," Benitez said. "He did well in the first game and he did well this time when he had the space.
"Maicon is a very good offensive defender but he has more problems when other players attack him. When players like Bale have space it is not easy.
"When we scored I thought we were close. The team was growing and doing better. We were on top of them at this moment but the third goal changed everything.
"There is a lot of work to be done, not just mentally but tactically. We know we can't lose games in this way."