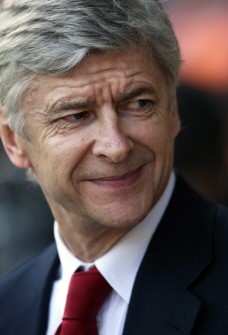 AFP- Arsenal's French coach Arsene Wenger looks on ahead of the game against Blackpool
LONDON, April 16, 2011 (AFP) - Arsenal manager Arsene Wenger has made it clear he is not prepared to compromise his footballing philosophy now that the club is owned by American tycoon Stan Kroenke.
That philosophy -- of putting faith in young, technically proficient and therefore inexpensive players -- is set to receive one of the sternest tests of the season on Sunday when Liverpool are the visitors to the Emirates Stadium.
Arsenal can cut Manchester United's lead at the top to four points with a victory but should they lose, their title chances will be all but non-existent.
Either way, Wenger says he intends to continue to follow the course he has pursued for over a decade, having already had talks on the subject with Kroenke, who will attend the match on Sunday.
"On the football side of things we will continue to focus on the football the way we want to play it and to develop our players," said the Frenchman.
"We have a squad which is about 23 years of age, which is in a strong position in the league.
"We have a certain philosophy of football and we will continue to develop that and to play even better.
"We will continue to run the club like it has been done until now -- that means live within our resources, produce our own resources and develop our football team."
Liverpool have revived significantly since Kenny Dalglish replaced Roy Hodgson and used the money from the £50 million ($81.5m) sale of Fernando Torres to bring in England striker Andy Carroll from Newcastle and Uruguay forward Luiz Suarez in January.
"Liverpool have a good offensive force with Carroll and Suarez. We are as well an offensive team, so it promises to be an interesting game," Wenger said.
Monday night's 3-0 Anfield victory over Manchester City was Liverpool's most recent success under Dalglish and they are now six points behind fourth-place City.
"It was a great game for us," said defender Martin Skrtel.
"These few days after the game we have really enjoyed the atmosphere. You can see the smiles on the faces and that is very important. Sunday is going to be a big game, a very important game for us.
"We are in a race for the best position we can reach in the league table at the end of the season.
"We have to work hard and try to repeat the performance we did in the game against City. If we do that we can get a good result there."
Dalglish could keep faith with teenage right-back John Flanagan, who made an accomplished debut against City, and Skrtel believes he is just one of many promising young players coming through the ranks at the club.
"John was brilliant," Skrtel added.
"He is just 18 and on the pitch he looked like an experienced player. The young guys from the Academy have already got a chance in the first team, like Martin Kelly, Jay Spearing, Flano and Peter Gulacsi.
"They are still young players but they are part of the first team. We can see they are the future of Liverpool and it is on the right way."
Goalkeeper Wojciech Szczesny could make a quicker than anticipated Arsenal return from the finger injury he suffered in the Champions League against Barcelona.
However, 41-year-old Jens Lehmann is standing by to continue after replacing knee injury victim Manuel Almunia at short notice at Blackpool last week.
Centre-back Johan Djourou and central midfielders Alex Song and Denilson could also make returns but right-back Bacary Sagna is a doubt with a knee injury.
Right-back Glen Johnson, centre-back Daniel Agger and midfielders Jonjo Shelvey and Steven Gerrard will all be missing for Liverpool.