After having had a kidney transplant operation in Austria in early March, Alfred Riedl, Coach of the national Vietnamese football team, will likely be back on the job by early August, according to the Viet Nam Football Federation (VFF).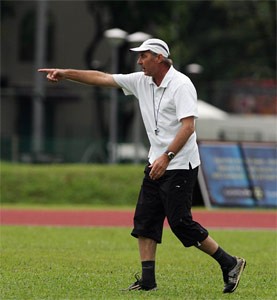 Coach Alfred Riedl
The Austrian coach has spent 50 of the 70 days the VFF allocated to him for the operation. Dr. Nguyen Trong Hien, who accompanied Mr. Riedl to Austria for the operation, said the operation was very successful.
Once arriving back in Viet Nam, the coach will meet officials from the VFF to discuss his plans for the upcoming Asian Cup 2007.

His first task will be to recruit the best players he can find for the national team. The team will practice at the National Sports Center No.1 beginning on June 19.
In addition, the VFF is now considering whether to replace Viet Nam's Olympic team coach Mai Duc Chung with Mr. Riedl for the second-leg match against Oman. "After the 1-3 loss in Oman in the first-leg qualifying match for the 2008 Beijing Olympics, Viet Nam is looking for a win at home on April 18, so we we're thinking of assigning Mr. Riedl to coach the Olympic team for that game; or at least assist coach Mai Duc Chung" said Tran Quoc Tuan, VFF's General Secretary.