Viet Nam coach Alfred Riedl will call many young footballers for his squad to prepare for the Spring Cup in Ha Noi, scheduled for April 16-20, 2006.
The Austrian coach said about 15 players under 23 and ten older players would be called for the friendly cup, in which Viet Nam will compete with the U-23 teams of Australia, Iran and Uzbekistan. The Viet Nam Football Federation organizes in the round-robin tournament to help the national squad prepare better for official tournaments later.
Riedl had earlier said that only those playing well in the Vietnamese Premier League and the first division would be selected to play for the national team. He has by now changed his mind, calling young players to coach for the cup and the 15th Asian Games in Qatar in late 2006. Another reason is right after the Asian Games, Viet Nam will vie with other Southeast Asian countries in the ASEAN Cup in January and February 2007, and then compete in the Asian Cup 2007 for the first time ever.  
Riedl and his Vietnamese assistants are choosing players from the Vietnamese Premier League and the first division, and will announce their names soon.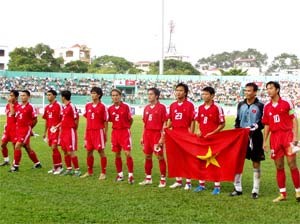 Eleven Viet Nam players at Thong Nhat Stadium in late 2004. No training sessions for the team in 2005 and many of them will not attend upcoming training sessions (Photo: Tuong Thuy)