Vietnam's U23 team takes on Thailand December 2 at 5:45pm during the 25th SEA Games in Laos, the first match for both teams in the event.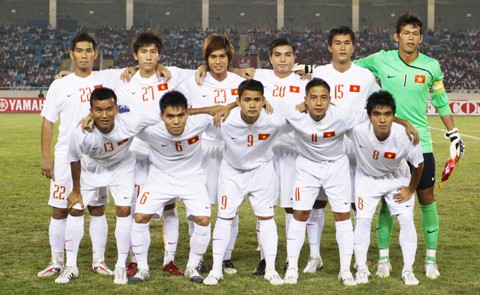 U23 Vietnamese team pose photo before the match with Thailand team in Vientiane on Dec. 2, 2009. (Photo: SGGP)
The match is of huge significance for Vietnam in setting the tone for future wins in the Games.
After Vietnam outscored Thailand at the AFF cup last year, the archrivals are eager to once again battle it out on the field.
Thailand is hoping for its 9th gold medal of the SEA Games and would like to add another win over Vietnam.
Ahead of the match, both Vietnam and Thailand's coaches brushed off questions about their competitors' strengths and weaknesses.
Vietnam coach Henrique Calisto said he respected the Thai team and declined to evaluate them.
Thailand's coach Darby said he was aware of Vietnam's strong and weak points but said the most important thing was the team's attitude and how well they played.
Darby said Thailand will try their best to bring home a ninth championship.
Coach Calisto said ahead of the match that he wanted to minimize pressure on his players to put them at ease and hold only a light training session to prepare.
"We will win," were the Vietnam coach's final words.
Vietnam plans to play with a 4-5-1 formation, including: Tan Truong, Hoang Quang, Long Giang, Xuan Hop, Ngoc Anh, Thanh Luong, Cong Minh, Thai Duong, Thanh Hung, Tien Thanh, and Thanh Binh.
Vietnam's key player Trong Hoang was expected to play, but will not compete in the first match this evening.
Players Van Binh and Danh Ngoc, meanwhile, were cut from the list of competitors in the Games.
Despite Thailand's better prospects for a win, Vietnam fans are hopeful for a solid effort and victory.
Related article: