JOHANNESBURG, June 5, 2010 (AFP) - Armed robbers killed one police officer and wounded another Saturday in a shoot-out on a highway close to the base camp for several football World Cup squads, officials said.
A spokesman for the provincial Gauteng police said the officers came under fire south of Johannesburg after cornering two cash-in-transit vehicles which had been hijacked by the robbers.
"Two police officers were shot at, one was killed and one was injured when they responded to a cash-in-transit robbery," said police spokesman Colonel Noxolo Kweza.
"Two guards were injured in the shootout ... They (the robbers) escaped with an undisclosed amount of cash. We are still investigating, details are still sketchy," Kweza told AFP.
The shooting took place on the Maraisburg slipway off the main N1 highway which is close to the bases for both Mexico and Ivory Coast during the tournament which kicks off next weekend.
High crime rate remains one of the chief concerns in the run-up to the World Cup taking place in a country which has a murder rate of around 50 a day.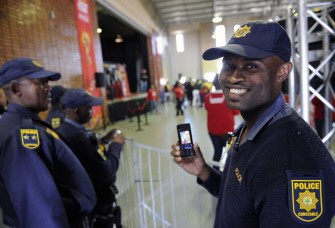 A South African policeman shows the photo he took with his cellular phone of the FIFA World Cup trophy exhibited at the Diamini Centre in Soweto on June 4, 2010. AFP photo