LONDON, March 30, 2011 (AFP) - Manchester United legend Bryan Robson criticised Fabio Capello's handling of the England captaincy saga on Wednesday but said he supported the decision to reinstate John Terry.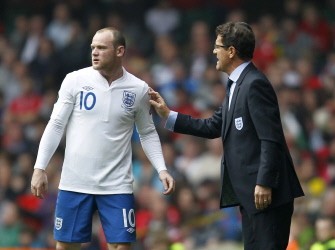 England's Italian Manager Fabio Capello (R) gestures to England's Wayne Rooney during the match against Wales during a Euro 2012, Group G qualifying football match at the Millenium Stadium, Cardiff, Wales on March 26, 2011. AFP
Robson, speaking at the Soccerex conference in Manchester, said Capello had blundered by failing to inform former captain Rio Ferdinand in person that he planned to restore the armband to Chelsea defender Terry.
Manchester United player Ferdinand was known to be unhappy at the decision and the issue dominated the build-up to England's matches against Wales on Saturday and Ghana on Tuesday.
"When you are a coach or a manager and you make big decisions, it is best to contact whoever has been disappointed and speak to them before it comes out in the media," Robson said.
"I would have been on the phone to the manager asking what is going on about me being dropped as captain."
Nevertheless, Robson felt Terry should never have been stripped of the England captaincy in the first place following revelations about his relationship with the ex-girlfriend of team-mate Wayne Bridge.
"The England captaincy issue has got carried away a little bit," he said.
"I said at the time, it was the wrong decision to take it away from John Terry. It was something away from football," Robson said.
"He was captain of his country for playing football. That was his private life.
"Hopefully it is all in the past now. John Terry has been given the captaincy again, so everybody should get on with the job and let it settle down.
"Hopefully for the rest of the Euro 2012 qualifiers we will have a fully-fit team with the same captain. That is the most important thing."