COPENHAGEN (AFP) – The International Olympic Committee on Friday re-elected Belgian Jacques Rogge as president for a new four-year term with 88 votes in favour, one against and three abstentions.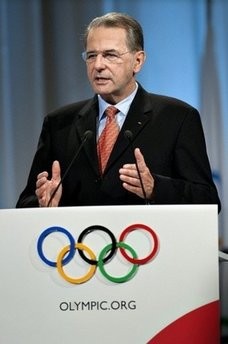 The International Olympic Committee on Friday re-elected Belgian Jacques Rogge (pictured on October 3) as president for a new four-year term. (AFP photo)
No alternative candidate stood in the secret ballot. Rogge, 67, was first elected for eight years in 2001 in Moscow and will now be in place through the 2012 London Olympics before stepping down a year later.
New rules allowed the former Olympic yachtsman and Belgian rugby union international to stand for a final four-year mandate.
The IOC also elected two vice-presidents for four-year terms: Italy's Mario Pescante and Singapore's Ser Miang Ng, who replace Greece's Lambis Nikolaou and Japan's Chiharu Igaya.
Rogge, an orthopaedic surgeon, who took over as IOC chief from Juan Antonio Samaranch in 2001, has enjoyed a varied career including a stint as a boxing ringside doctor.
He last week oversaw the choice of Rio as host of the 2016 Olympic Games, the first ever South American city to stage the event, despite it being the lowest candidate in terms of potential sponsorship.
As IOC president, he has been instrumental in the smooth running of Summer Olympics in Athens (2004) and Beijing (2008), as well as Winter Games in Salt Lake City (2002) and Turin, Italy (2006), with the Vancouver Games scheduled for February 2010.
Briton Craig Reedie and Australian John Coates were also elected to the IOC executive committee, which comprises 10 members including four vice-presidents and Rogge himself.
The IOC, which had 106 members before the opening of the 121st session, also welcomed six new members: Richard Peterkin (St Lucia Olympic Committee), Prince Frederik of Denmark, Habu Ahmed Gumel (Nigerian Olympic Committee), Habib Abdul Nabi Macki (Oman Olympic Committee), Lydia Nsekera (Burundi football federation) and Goran Petersson (Swedish president of the International Sailing Federation).