MADRID, April 2, 2010 (AFP) - Real Madrid winger Cristiano Ronaldo says he can't bear to watch the Champions League since his side was eliminated from the competition at the last 16 stage for the sixth successive season.
"I don't like to watch the Champions League matches because it leaves me a bit annoyed because I know that our team was good enough to reamin in the competition and we are not because of our own fault," he said Friday during an interview with public television TVE.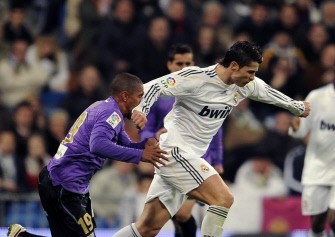 (AFP file) Real Madrid winger Ronaldo (in white)
"We made mistakes, me, the other players, we have to learn our lessons from this. We lost, now we have to raise our heads and think that we have to do better next year, which is possible," the Portuguese international added.
"I consider myself to be a winner, I try to always move ahead. I know it is very difficult, nothing in life is easy, if it was easy we would not be born crying."
Nine-time champions Real were eliminated from the Champions League in the first knockout round on March 10 after drawing 1-1 against Lyon, sending the French club through 2-1 on aggregate.
The Spanish giants have not reached the quarter-finals of the tournament since 2004.
Ronaldo, 25, said he was confident that Real, who are locked at the top of La Liga with arch-rivals Barcelona, will win the Spanish league this season.
"We know that we have eight matches that we have to win, it is difficult but I am confident that we can do it," he said.
European and Spanish champions Barcelona and leaders Real have 74 points with third-placed Valencia 21 points behind. Barcelona are second on goal difference.
Real face Racing Santander on Sunday as they go in search of a 12th consecutive league win.
Ronaldo, the 2008 FIFA World Player of the Year, became the world's most expensive footballer when he was transferred from Manchester United to Real in July 2009 for 94 million euros.