MADRID, Jan 19, 2011 (AFP) - Real Madrid striker Cristiano Ronaldo said reports of a spat with teammate Iker Casillas and his girlfriend Sara Carbonero were "nonsense" in an interview published Wednesday.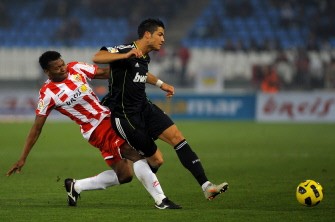 Real Madrid's Ronaldo (R) vies with Almeria's Kalu Uche during the Spanish match Almeria vs Real Madrid on January 16, 2011 at the Juegos Mediterraneos stadium in Almeria. The match ended with a draw 1-1. AFP
Carbonero, a television sports journalist who shot to fame when Casillas kissed her on camera after Spain's World Cup victory, had described Ronaldo in September as being "selfish" on the pitch.
But, in an interview with Spanish sports daily Marca, Ronaldo said he was shocked by reports at the time that he had stopped talking to Iker, keeper for Real Madrid and Spain's World Cup squad.
"I was fine, scoring goals, my family was well .. and that happened. It was a controversy that made no sense. I spoke about it with him."
Ronaldo said he had spoken to Casillas about Carbonero's comments and cleared up any misunderstanding.
"They are things we spoke about at the time and everything was clear. It was a misunderstanding on my part and on the part of Iker and his girlfriend," he said.
"But these are normal things that we talked about and it is already resolved. There is no need to dramatize it or make a controversy about it. We are fine; I get on well with Iker and his girlfriend."
Ronaldo said he was saddened by reports that he did not get on with his teammates.
"When they say I don't play well or I am a ball hog I respect that because they are opinions, but it makes me angry when they say things they don't know like that, he said.
"I don't know where they see that. It is nonsense. I get on well with everyone, it is true. If you ask my teammates they will all say the same thing."