MADRID, Jan 27, 2010 (AFP) - Real Madrid's Cristiano Ronaldo Tuesday received a two-match suspension for a red card he picked up at the weekend, the disciplinary committee of the Spanish football league announced.
It said the world's most expensive player had been punished "for resorting to dangerous play that caused an injury" to an opponent.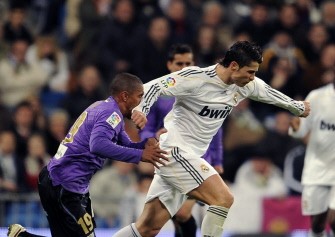 Real Madrid's Portuguese forward Cristiano Ronaldo (R) tackles Malaga's Danish defender Patrick Mtiliga (L) during a Spanish league football match at the Santiago Bernabeu Stadium, on January 24, 2010 in Madrid. AFP photo
It also fined Real 180 euros and Ronaldo 600 euros.
Ronaldo spoiled a stellar two-goal display on Sunday by getting sent off after a stray elbow caught Danish defender Patrick Mtiliga, who tugged the Portuguese winger's shirt during the 2-0 win over Malaga.
Real's sporting director, Jorge Valdano, described the referee's decision as "unfair and "very hard."
But, speaking prior to the disciplinary committee's decision, he told Spain's COPE radio that Real "will accept any decision" by the body.
The former Manchester United star said Monday he also felt his red card was unjust.
"I've spoken to Mtiliga and he said he doesn't believe I should apologise because he doesn't think I hurt him intentionally," he was quoted as saying on the club's website.
"I never try to trick referees. I never intended to injure the player. I believe they should be fair with what really happened."
Mtiliga suffered a broken nose in the clash and has been ordered to "rest for a week," Malaga said in a statement on Monday.
It was the second dismissal of the season for Ronaldo, who was sent off in a 4-2 win over Almeria on December 5 for kicking out at an opponent.