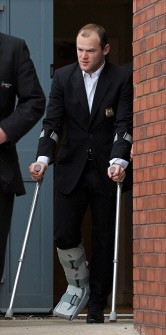 Wayne Rooney leaves The Bridgewater Private Hospital in Manchetser, north-west England, on March 31, 2010. AFP photo
MANCHESTER, England, April 2, 2010 (AFP) - The true cost of Manchester United's decision to allow Cristiano Ronaldo to leave for Real Madrid will become apparent at Old Trafford on Sunday.
Ronaldo's absence has been felt less sharply than might have been anticipated after his 42-goal final season at the Theatre of Dreams, mainly because Wayne Rooney has stepped into his goalscoring boots with such aplomb.
But with Rooney now sidelined by an ankle ligament injury, it remains to be seen if Sir Alex Ferguson's squad have the depth of match-winning resources required to win an unprecedented fourth consecutive English title.
Victory over a Chelsea squad that has rediscovered form over the last two weeks would represent a huge step in that direction.
It would leave United four points clear at the top of the table with five games left to play and it is hard to imagine a Ferguson squad conceding that kind of advantage over the final furlong.
Rooney's absence offers Dimitar Berbatov the opportunity to convince the still-sceptical United faithful that the 30 million pounds it cost to secure the Bulgarian's services in 2008 represented a shrewd investment by Ferguson.
Berbatov's languid style has led some fans to question his appetite for hard graft but his superb touch and imagination are appreciated by his team-mates, as well as by Ferguson.
"We showed this season we play as a team," the centreback, Nemanja Vidic, said. "It is not just about one man. Definitely Wayne Rooney has had a great season. He is unbelievable, one of the best in the world.
"But sometimes big players are missing and others need to be ready."
"Dimitar had a great game against Bolton on Saturday. He is a great footballer. He scored twice himself and can set up goals for other players as well. We have a good squad. We just need to believe in ourselves and believe in each other."
While United have been deprived of their principal source of goals, Chelsea are in a rich vein of scoring form having hit the net 12 times in their last two outings.
Their manager, Carlo Ancelotti, recognised that Rooney's absence will affect United, although he believes it might easily galvanise the rest of the squad into raising their game.
"Maybe sometimes a team can give more than 100 per cent when an important player is out," the Italian warned. "We have to pay attention to this.
"We need to show our play and do it for 90 minutes and stay concentrated. Man Utd are a very dangerous team and have a lot of players who can create difficulties for us."
Ancelotti believes the title race will go to the final day, regardless of the result on Sunday.
"The destiny after the game will be with the winners, but nothing will be decided," he said.
Didier Drogba's return to full fitness has given Ancelotti a dilemma over whether to change a side that thrashed Aston Villa 7-1 last weekend, with Nicolas Anelka leading the line in impressive fashion. But all the signs are that the Ivory Coast striker will be on the starting sheet.
"He is a very important player, he has scored 30 goals," Ancelotti added. "The other strikers did a great job against Villa without him, but he is very important to us."
A John Terry strike gave Chelsea a 1-0 win when the two sides met at Stamford Bridge in November, but Ancelotti does not read too much into that result. "We are playing for the title so psychologically it is different."