LONDON, April 1, 2011 (AFP) - Wayne Rooney claims he could not be more motivated to win a record 19th league title as Manchester United prepare to face West Ham at Upton Park.
United are locked on 18 titles with bitter rivals Liverpool after finishing runners-up last season.
They go into the weekend five points clear of Arsenal, who have a game in hand on the leaders.
United face Chelsea in the Champions League quarter finals next week and have an FA Cup semi-final to come against Manchester City.
Rooney admits that growing up as a fan of his former club Everton makes him even more determined to move United ahead of Liverpool's tally of titles.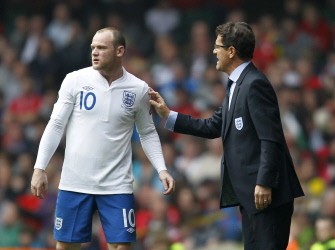 England's manager Fabio Capello (R) gestures to England's Wayne Rooney during the match against Wales during a Euro 2012, Group G qualifying football match at the Millenium Stadium, Cardiff, Wales on March 26, 2011. AFP
"I grew up an Everton fan so to be part of the team to overtake Liverpool's record would be brilliant. It would mean so much to us players as well as the fans," said Rooney.
"It is something I have been thinking about a lot. I know all the Everton fans want us to do it and hopefully we can.
"You look forward to every game at this stage and you've got to enjoy it, especially when you are in the running for a few trophies.
"It is exciting for the fans and it's exciting for the players knowing that you are just a few weeks away from possibly winning a major trophy or two."
Rooney believes that the return of Antonio Valencia could be key for United in the final weeks of the campaign.
The Ecuadorean winger recently returned to the United side after six months out with a broken ankle.
Rooney thinks that having the winger and Nani on the flanks will bring another dimension to Sir Alex Ferguson's side.
"I am probably the happiest person in the team to see him back," Rooney added. "Having Nani on one wing and Antonio on the other is fantastic because they each bring something different."
Ferguson is hopeful that Nemanja Vidic will return from an calf problem after featuring for Serbia in midweek but Rio Ferdinand is still sidelined with a calf injury, Rafael is out with a hamstring problem, Jonny Evans is suspended and John O'Shea is out with a hamstring injury.
West Ham have no new injury concerns and have very different concerns going into the game at Upton Park.
Avram Grant's side are only outside of the relegation zone on goal difference, with eight matches remaining.
Grant's side are unbeaten in four Premier League matches, following a goalless draw at Tottenham before the international break.
Striker Carlton Cole, who has scored six goals in his last 10 appearances, insists West Ham's players are in no doubt about what is required to secure survival.
"Every game from now to the end of the season is a cup final for us. We need to show the same endeavour and the same spirit we showed at Tottenham," he said.
"The team spirit was amazing at White Hart Lane and that's what we really need to work with to get the results. Then the quality will shine through."
Cole believes West Ham should be inspired by their comprehensive 4-0 victory over United in the Carling Cup quarter finals at the end of November.
That was United's first defeat of the campaign and Cole thinks that performance shows what his team are capable of.
"It was a wonderful game. You just need to put in the hard work and the luck will be there with you," he said.
"All the boys tried really hard and we need to show that again. We are building on our performances and we are all working towards moving the club up the table as quickly as possible."