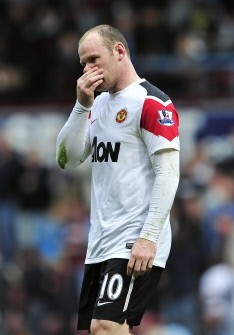 Rooney gestures as he leaves the pitch at half time in the English Premier League football match between West Ham United and Manchester United on April 2, 2011. AFP
LONDON, April 3, 2011 (AFP) - Manchester United striker Wayne Rooney could face a Football Association (FA) probe after unleashing a foul-mouthed outburst into a television camera during Saturday's 4-2 win over West Ham at Upton Park.
As Rooney celebrated with United team-mates after completing his hat-trick from the penalty spot, the England star was caught uttering a series of audible expletives towards the camera.
Rooney's swearing was beamed around the world by Sky Sports and prompted an on-air apology from the broadcasters.
While the England player said the emotion of giving his side the lead after they trailed 2-0 at half-time had prompted his outburst, England's FA might take a different view.
Widespread press reports Sunday quoted an FA spokesperson as saying: "We will look at it. We obviously don't condone foul and abusive language."
FA director Sir Trevor Brooking later confirmed to BBC Radio 5 Live's Sportsweek programme the governing body will be investigating Rooney's behaviour at Upton Park.
"Tomorrow there will be a decision," said Brooking.
"It was a surprise, after scoring a hat-trick, to react that way.
"It is something we will have to look at."
Rooney apologised for his outburst in a statement released by United later on Saturday.
He said: "I want to apologise for any offence that may have been caused by my goal celebration, especially any parents or children that were watching. Emotions were running high and on reflection my heat-of-the-moment reaction was inappropriate. It was not aimed at anyone in particular."
It is not the first time Rooney has been in trouble for ranting into television cameras.
He also upset England fans during last year's World Cup when he turned to a camera and verbally attacked them for jeering at the end of a 0-0 draw with Algeria in the group stages.