MANCHESTER, England, Jan 25, 2010 (AFP) - Manchester United's Wayne Rooney said Monday that while interest from other clubs was flattering, he had no plans to leave Old Trafford.
The England striker has been in superb form this season, scoring 19 goals in the Premier League alone - including all four in United's 4-0 win over Hull on Saturday that took the defending champions back to the top of the table.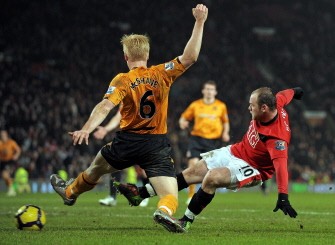 Wayne Rooney (R) scores his fourth goal during the English Premier League football match between Manchester United and Hull City at Old Trafford, on January 23. AFP photo
Rooney's goals have been a huge boon to United in the absence of Portugal winger Cristiano Ronaldo, who left Old Trafford before the season started for Spanish giants Real Madrid in an 80 million pounds move.
Real and domestic rivals Barcelona are both reportedly interested in Rooney but the 24-year-old said he was happy to stay with the Red Devils, telling United's official website: "There's always speculation, and when other big teams are talking about you, it's nice that you're talked about.
"But as I've said many times before, I'm a United player and I'm very happy here."
The ex-Everton forward added: "I hope we can win the title again this year.
"We've won the league the last three years and nobody has ever won it four times in a row. We want to create history.
"The title race is much tighter this year and it's probably more exciting for the neutrals or fans around the country. But we're hoping that now we are top we can go on and remain there for the rest of the season."
Former England striker Alan Shearer, speaking after the Hull match, said Rooney had been the key factor in United staying in title contention, telling BBC Radio: "They would not be where they are in the league (without Rooney).
"He has carried them at times but he is a great player and that's what great players do.
"When the clubs need them they step forward."
Shearer also said Rooney was vital to England's hopes of World Cup glory in South Africa this year.
"As important as he is to Manchester United, he is just as important to England, I don't think anyone should forget that," said Shearer.
"But on the other hand there were question marks. People were saying he has to step up his performance this year because of the loss of Ronaldo and boy has he done that," the Newcastle great added.
"I think he has actually carried Manchester United on his own at times this season. That's saying something for the size of that particular club.
"I think his performances have been spectacular and I hope he's not peaking too soon, as an England fan."
Rooney's committed style has led to concerns he may either injure himself or simply run out of steam before the World Cup and Shearer said: "The fear I have with him is injury and that is not something he, nor anyone, can do anything about," the former Newcastle boss added.
"If that is going to happen it's going to happen - we're are in the lap of the gods I'm afraid."