BARCELONA, Spain, May 25, 2011 (AFP) - Barcelona defender Gerard Pique has highlighted former team-mate Wayne Rooney as the danger when they face Manchester United in the Champions League final at Wembley on Saturday.
Pique knows the United side well having spent four years at Old Trafford up until 2008.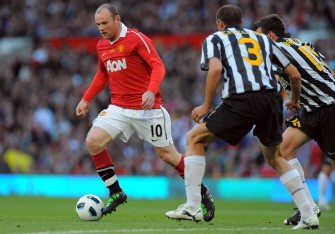 AFP - Manchester United's Rooney (L) runs with the ball during a testimonial football match between Manchester United and Juventus for United's Gary Neville at Old Trafford in Manchester on May 24, 2011.
He moved aged just 17 but failed to make an impact on the first team and ended up moving back to Catalonia. He has since established himself among the best defenders in the world, winning the treble in his first season back at Barca including the Champions League beating United in the final in Rome.
He now finds himself again facing his old side and knows that he will have to be at his best to contain Rooney.
"He is one of the best strikers in the game and has scored a lot of goals," said Pique.
"I will have to concentrate hard to not to give him space. I have a good friendship with him but we both want to win this game and we will be fighting for our own interests.
"It was always difficult playing against him in training as it is with (Lionel) Messi now," added Pique.
Pique, who was a pivotal member of the defence when Spain at last won the Woirld Cup last year, also paid handsome tribute to United manager Sir Alex Ferguson who he feels has had a big bearing on his career.
"He has won loads of titles and although the teams change he keeps on winning. I had several really good years there but Barcelona is my home and I wanted to return here. He (Ferguson) understood this," said Pique.
Barca coach Pep Guardiola still hasn't decided on his defensive make-up for the final but could choose to play Javier Mascherano in the centre alongside Pique with the talismanic Carles Puyol still not 100 percent match fit after a long injury spell.
A former Liverpool player, Mascherano admits that it is a bigger game than normal for him personally while he has not forgotten his sending off in 2008 against United where he had to be restrained by fellow players after receiving two yellow cards.
"It was a big mistake when I got sent-off but this game now is totally different because it is not a game between United and Liverpool but the final of the Champions League," he explained.
"After spending three-and-a-half years at Liverpool you are going to feel a bit different in this game but I am now a Barcelona player."
Mascherano feels that United are as strong now despite losing Cristiano Ronaldo.
"I know Ferguson, he is very clever and for that reason he has been there for so long," said Mascherano.
"We don't have an advantage now because they have Chicharito (Hernandez), (Antonio) Valencia and Nani who has improved a lot in the last two years.
"It would be a big mistake if we were to think that they are weaker now as they have some very good players. I don't know if I am going to play but I will do my best if I start or have the chance to come on from the bench."
Mascherano is not fazed by the possibility of being in the backline and played there in the ill-tempered semi-final against Real Madrid.
"Centre half is not my favourite position but you have to adapt and I was taught how to do it when I was young. I won't be worried if I play at the back and have to face Rooney or Chicharito," he added.