The Saigon Xuan Thanh Football Club may have to shut down once the main financial backer Nguyen Duc Thuy decides to stop sponsoring the team.
Thuy plans to meet with Tran Tien Dai, the club's managing director, today, December 12, before announcing his final decision on his investment in the club.
On December 11, Thuy hinted at a possible pull out from the club.
The move follows a wave of mega-rich, supposedly keen football fans abandoning the club.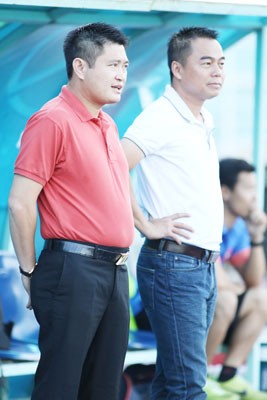 Nguyen Duc Thuy (L), owner of Saigon XT Football Club ( Photo SGGP)
Thuy recently resigned from the chairmanship of the club and is no longer wholly financing the football team.
He currently provides funding of only VND25 billion (US$119,846) in sponsorship for the club's next season, leaving Tien Dai responsible for raising additional funds to support the club's survival.
Saigon XT has already cut wages and costs to meet the shortfall, and let go of star players Kesley, Nguyen Rogerio and Aniekan.
Amid its current financial situation, the club has sought support from the Department of Culture, Sports and Tourism. However, this request may be rejected.
Dai said, "It's possible that Thuy will leave our club. We'll have to learn to adapt to new circumstances."
Dai also admitted that he had failed to raise sufficient finances for the club for next season. This means that Saigon XT may follow Navibank SG and Hanoi Football Club into extinction as rich backers have grown tired of their squabbles.
Ever since Thuy gave up the post of President of Saigon Xuan Thanh Club, no one has come forward to replace him.
Thus, it seems very likely that Saigon Xuan Thanh will leave the V-League 2013 games!