The San Miguel Asian 9 Ball Tour officially opens with the first four matches starting at 12:00am today. Its first leg in Vietnam is held in Ho Chi Minh city from 5 to 7 of May, 2006.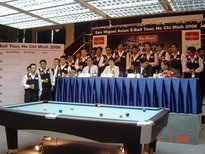 Top 24 players take group photo at the press conference of San Miguel Asian 9 Ball Tour 2006 (photo - thaivy)
Yesterday afternoon, the press conference and the draw ceremony to kick off the first leg in Ho Chi Minh was held at Nguyen Du Hall with the participation of the top 24 players at world-classed and Asian level such as Filippinos Efren Rayes, world No. 22, Alex Pagulayan, world No.12 and Chinese Taipei Wu Chia-Chinn, world No.14. Technical representatives from Asian Billiards Pocket Union (ABPU), high officials from Vietnam Pocket Billiards Federation (VPBF), and representatives from Ho Chi Minh City Sport Department all attended the press conference.
Viet Nam participates in the event with 5 players, among whom is Nguyen Thanh Nam, world No. 151, the most expected to pass the first round of the leg.
San Miguel Asian 9 Ball Tour has been launched for many years and become the only premier 9 ball tour in Asia through which leading Asian cueists can earn qualification to the World Pool Championships if they are on top 10 on the San Miguel Asian 9 ball Tour Order of Merit every year.
This year, San Miguel Asian 9 Ball event will tour from Ho Chi Minh City in May to Bangkok in June,
Representatives of ESPN STAR SPORT, San Miguel and HCMC Sports Department at the press conference (photo - Thai Vy)
then Kaosiung in August and finish up in Jakata in September.
The San Miguel Asian 9 Ball Tour – Ho Chi Minh City leg promises to be the great launching pad for this year's event as Ms. Diana Chan said in the press conference, director of the Event Management group at ESPN STAR SPORTS, "We will be telecasting over 60 hours live on our Star Sports networks, so viewers from Korea to India can share the excitement and action as it happens."
The draw was conducted right after the press conference with seeds selected by cueists' world ranking. When asked about the result of the draw, Ms. Diana said that the chance would be equal to all players and there would be big surprise to this event because all the table holes have been widened compared to those in previous tours.