Scandinavia won the third Euro Soccer Cup in Ho Chi Minh City on May 27 after beating the UK 3-0 in the final.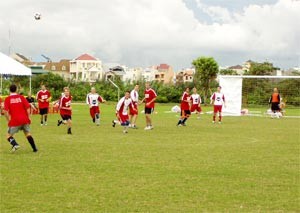 UK (in red) and Scandinavia (in white) play the final (Photo: Tuong Thuy)

Scandinavia's Kenneth Jensen was selected the best goalie because he kept his net completely clean after his team's five matches. Meanwhile, his teammates scored 21 goals in all.
At RMIT Viet Nam University in District 7, France, Germany, Holland, Ireland, Scandinavia, Spain, Switzerland and the UK played in the mini soccer tournament, organized by the European Chamber of Commerce in Viet Nam (Eurocham) to bring fun to the European community and help players keep fit.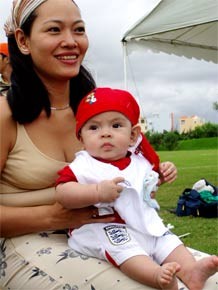 A four-month boy is also among the crowd (Photo: Tuong Thuy)
The UK beat Switzerland 10-1 in the first semifinal before Scandinavia defeated Ireland 6-0 in the second semifinal. Then came the final shortly after 5 pm, and the defending champions scored three goals, taking the trophy. The one-day tournament wrapped up.
SCOREBOARD

Group A
UK vs. Germany 2-1
Ireland vs. France 2-1
UK vs. Ireland 2-0
Germany vs. France 3-4
UK vs. France 1-0
Germany vs. Ireland 0-3
Group B
Scandinavia vs. Spain 3-0
Switzerland vs. Holland 2-1
Scandinavia vs. Holland 3-0
Switzerland vs. Spain 3-1
Switzerland vs. Scandinavia 0-6
Holland vs. Spain 1-6
Semifinal 1
UK vs. Switzerland 10-1

Semifinal 2
Scandinavia vs. Ireland 6-0
Final: Scandinavia vs. UK 3-0

Related article
Euro Soccer Cup in Town before World Cup