GELSENKIRCHEN, Germany, April 27, 2011 (AFP) - Schalke 04 coach Ralf Rangnick refused to give up the ghost despite seeing his side outclassed 2-0 by Manchester United in the home leg of their Champions League semi-final.
A pair of goals in the space of two second-half minutes from Ryan Giggs and Wayne Rooney earned United victory in a one-sided game on Tuesday to take the three-time champions to the brink of the final at Wembley on May 28.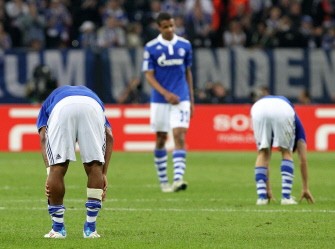 AFP - Schalke's players react after the Champions League semi-final
Rangnick vowed that his men would not throw in the towel in the second leg at Old Trafford.
"Why give up? Of course we won't do that," he said.
"The situation at the moment is that United have a better chance, but things happen in football and you never know. Perhaps they feel too secure and we can spring a surprise.
"We now have a Bundesliga game against Bayern Munich and then we play United. Of course we're going to attack them. But yes, we need to improve some points."
Schalke rocked the competition by eliminating holders Inter Milan in the previous round, but they never looked like springing another upset against United, who cut through the home defence at will in the first half.
Rangnick said the ferocious will to win that had been so evident against Inter had not deserted his side, however.
"I wouldn't say there was a problem with our fighting spirit," he said.
"I think it was more of a tactical problem. We didn't really fit in the right position. You can't assume you can play the same against Inter every game.
"You need to have the right tactical nous in each position to play a game like this."
That Schalke will travel to Old Trafford with only a two-goal deficit was thanks in no small part to the brilliance of goalkeeper Manuel Neuer.
The Germany international, who is reportedly set to join Bayern Munich, produced a string of jaw-dropping stops in the first half before finally being beaten by Giggs in the 67th minute.
United coach Sir Alex Ferguson said it was the best performance by an opposition goalkeeper since he took the United reins in 1986, and Rangnick conceded that he had been indebted to his goalkeeper.
"Thanks to Neuer, because in the first half we could have been one, two or maybe even three goals behind," he said, before adding that the Schalke captain had proved himself to be the world's top goalkeeper.
"Yes, you don't need this performance to confirm that," he said.
"If you see his development over the last few years, he is absolutely top-class."
Having seen his side pull off one of the great European Cup upsets against Inter -- a 7-3 aggregate win -- Rangick was left to rue his team's failure to seize the initiative against United.
"We thought it would be difficult, obviously, but for the first 15 minutes it was a quite even game," he said.
"We had gaps in defence but we played very well. Unfortunately the last pass was not as it should have been. Had it been, we could have scored.
"Then it all went wrong a little bit. We left them too much space and United attacked constantly.
"It was better in the second half but we didn't have the same aggression as against Inter. For the first goal, we just stood around and watched, which is exactly how you go about conceding goals."