Truong Thi Phuong dominated the women's C1-200m event to win the first gold medal for Vietnam in canoeing at the 28th Southeast Asian Games in Singapore.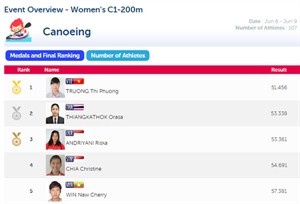 Truong Thi Phuong wins the first gold medal for Vietnam (Photo: SEA Games2015)
Phuong crossed the finish line with a time of 51.456 seconds to win Vietnam's first gold medal in the fourth day and the country's 27th gold medal so far at the Games.
Thiangkathok Orasa of Thailand came in second with 53.338 seconds and Andriyani Riska of Indonesia was in third place.
In the morning, canoeing also brought home another two bronze medals in the women's K1-200m event, carried off by Do Thi Thanh Thao, and the women's K2-200m team event.