The Gelora Bung Karno Stadium in the Indonesian capital of Jakarta, with nearly 100,000 seats, is a tremendous challenge for Vietnam's Under-23 team Saturday night when they take on the hosts in the Southeast Asian Games semifinals.
It is like they would play under fire.
Vietnam have tried their best to go through to the knock-out stage as the Group B winners with the hope that Indonesia's Under-23 squad would also top Group A. However, the hosts lost 0-1 to SEA Games defending champions Malaysia Thursday and came second in their group.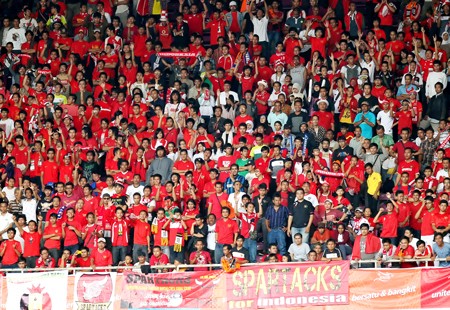 Indonesian fans flood a stand in the Gelora Bung Karno Stadium during a 2011 SEA Games football match when hosts Indonesia play (Photo: Dung Phuong)
This means Vietnam have to play the hosts, and the defending champions take on Myanmar in the semifinalists.
Vietnam coach Falko Goetz and his players have been determined to make their best performance in the match with Indonesia, in front of the vast crowd of Indonesian fans on all stands.
A fact is none of his players, who are under-23 men, have never played under such pressure from so big the crowd at the stadium. Therefore, psychology is a problem.
The Vietnam coach said his side were able to beat the hosts, as Malaysia did Thursday. However, their performance in beating Laos 3-1 in their group's last match Thursday did not bring high hopes to Vietnamese fans.
It might be said that Vietnam would rely on counter-attacks during the battle against the Indonesian players in the field and the Indonesian fans from all stands. Pressure from the crowd, hopefully, would shift to the hosts some moments if Vietnam could stand firm facing attacks from the other side.
In football, luck is always part of the game. In a knockout game like Saturday's Indonesia vs. Vietnam match, not many predictions come out clearly.
From the other side, Indonesia coach Rahmad Darmanwan sent apologies to Indonesian fans after his side's loss to Malaysia Thursday. He said his players would pay off by beating Vietnam Saturday night to play the SEA Games final.
He added that Vietnam were a strong team, therefore his side had to take prudence.