The 25th Southeast Asian Games officially opened in Laos' capital of Vientiane on the Dec. 9 night. The opening ceremony took place at the new National Stadium with the participation of Lao President Choumaly Sayasone and other Lao leaders.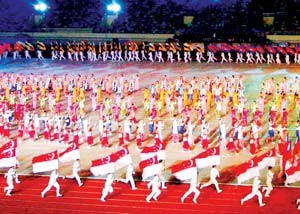 Performance during the 25th SEA Games opening ceremony in Vientiane, Laos Wednesday (Photo: SGGP)
It was a historic moment for Laos when SEA Games 25 opened in a colorful ceremony steeped in cultural and historical significance. It is the first time for Laos to host the regional sports event. The Games are also held in celebration of the 450th anniversary of Vientiane as the capital of Laos in 2010.
The opening ceremony was kicked off with the processions of the flag of Laos, flags of the SEA Games, SEA Games 25 and 10 other participating countries namely Brunei, Cambodia, Indonesia, Malaysia, Myanmar, the Philippines, Singapore, Thailand, Timor Leste and Vietnam.
A total of 25 sports are contested in Vientiane with 377 gold medals up for grabs.
The SEA Games 25 torch lighted up after shifting through the hands of Lao outstanding athletes. The SEA Games flame will burn throughout the regional sports event until Dec. 18 – the closing day.
The ceremony continued with brilliant performances showing the Laos people's hospitality, joy and friendliness for the prosperity of the region.
Vietnamese Prime Minister Nguyen Tan Dung and his counterparts from Cambodia, Myanmar and Thailand joined the opening ceremony with ASEAN General Secretary Surin Pitsuwan.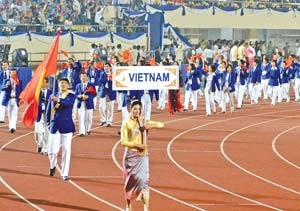 The Vietnamese contingent during the march past at the opening ceremony of the 25th SEA Games in Vientiane Wednesday (Photo: SGGP)
The new National Stadium was filled with representatives from the Lao State and government, guest leaders from other ASEAN countries and 11 sports delegations with nearly 4,900 athletes together with Lao residents.
The host country sent 733 athletes, coaches and officials to the event.
The Vietnamese delegation has 671 members, including 445 athletes and 226 officials and coaches.