The Vietnam Football Federation Cup match between U23 Vietnam and U 23 Uzbekistan ended with a 1-1 draw at Hanoi's My Dinh National Stadium Friday though the hosts deserved a win.
The home side created five very clear chances but converted just one of them into a goal. About three minutes after Uzbekistan opened fire with a close range shot in the 53rd minute, Vietnam equalized.
From a corner kick on the right by captain and playmaker Pham Thanh Luong, midfielder Nguyen Van Quyet headed the ball into Uzbekistan's net. Van Quyet later struck the ball hard on the bar of Uzbekistan's goal – the ball bounced to the ground and it seemed to pass the goal line – but the referee had no reaction.

So far, FIFA, the world's football governing body, has yet to use goal line technology.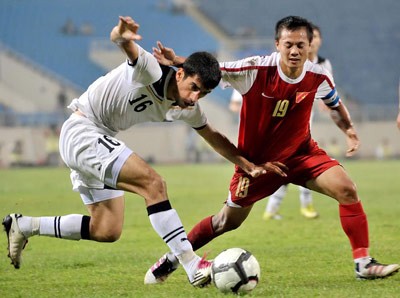 U23 Vietnam captain Pham Thanh Luong (R) fights for the ball with an Uzbek player during their game in the Vietnam Football Federation Cup at Hanoi's My Dinh National Stadium on Oct. 21, 2011. (Photo: Cong Minh)
After the home side equalized, Vietnamese defender Chu Ngoc Anh was sent off with his second yellow card. Ten-man Vietnam did not reduced their attack tempo but the draw score did not change.

In the earlier game of the Friday matchday, Southeast Asia Games defending champions U23 Malaysia beat U23 Myanmar 2-1.
U23 Vietnam now lead the Vietnam Football Federation Cup, a warm up competition for SEA Games in Indonesia November, although they got four points as the Uzbek side did. The Malaysia team are third, and Myanmar fourth of the four participating teams.

The home side defeated Myanmar 5-0 on Wednesday after Malaysia lost 1-3 to Uzbekistan.
The final matchday Sunday will see Vietnam take on Malaysia and Myanmar play Uzbekistan.

In the 26th SEA Games in Indonesia next month, the hosts are in Group A together with defending champions Malaysia, regional powerhouse Thailand, Singapore and Cambodia. Group B has six teams: Brunei, East Timor, Laos, Myanmar, the Philippines and Vietnam.