LONDON, April 24, 2010 (AFP) - Carlo Ancelotti admits he will only regard his first season at Chelsea as a success if the Blues win the Premier League title.
Ancelotti's team host Stoke on Sunday in the first of a three-game run that will decide if Chelsea regain the English crown from Manchester United for the first time since 2006.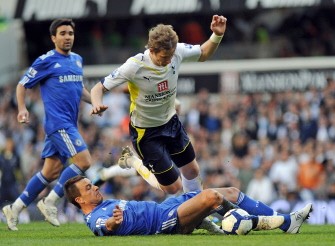 Chelsea defender John Terry tackles Tottenham striker Roman Pavlyuchenko (R) which leads to Terry receiving his first yellow card during the English Premier League football match between Tottenham Hotspur and Chelsea at White Hart Lane in London, England on April 17, 2010. AFP PHOTO
After winning the title two years in a row under Jose Mourinho, Chelsea have been forced to play second fiddle to Sir Alex Ferguson's side for the last three seasons, but the west Londoners can end United's dominance by winning their remaining fixtures against Stoke, Liverpool and Wigan.
Ancelotti knows Chelsea's Champions League defeat against Mourinho's Inter Milan has raised unfavourable comparisons with the former Blues boss and the Italian is desperate to prove his critics wrong by delivering the title just a year after arriving from AC Milan.
"Yes, we have to win the league. At this point of the season we have to win," he said.
Despite opening up a four-point lead over United earlier this month, Chelsea failed to press home their advantage and a 2-1 defeat at Tottenham last weekend allowed the champions back into the race.
Ancelotti still believes his players are capable of passing the finish line first and he takes heart from the impressive way they responded to that European exit.
"I always said I have a very good squad, not only technically but mentally. We have lost some games but we have all the qualities to finish this season well," Ancelotti said.
"This season we have moved on from very difficult moments. We went out of the Champions League and had a very good reaction. This team showed a lot of courage in defeat.
"Now is not a difficult moment for us. It is a moment to maintain control and stay focused. We have the title in our hands. We can decide our future. Nobody else."
Managing Chelsea, with all its' myriad factions competing for power in the dressing room and the board room, could have been a draining experience for Ancelotti.
But he has coped well enough with the egos in his squad and the political intrigue behind the scence and insists he has relished every moment.
"It is a new experience. I trained players with different characteristics. Sometimes I changed the shape of the team. It has been a very good experience," Ancelotti said.
"To do this job I have to be clear, I have to show my character in front of my players, the fans, the owners.
"This is my character. I want to be clear and clean. This is the best thing for me."
Ashley Cole's quicker than expected return from a broke ankle suffered in February is a major boost for Ancelotti as he will be without several key players through injury and suspension.
John Obi Mikel, Michael Essien and Ricardo Carvalho are all injured, while captain John Terry is banned following his dismissal at Tottenham.
Those absences could prove problematic against a Stoke team who have already troubled Chelsea twice this season.
Potters boss Tony Pulis, who welcomes back defender Ryan Shawcross from injury, said: "We've had some good matches with Chelsea and we've been close to getting something from them on at least a couple of occasions.
"They beat us with two late goals at Stamford Bridge last year and scored in the 94th minute here at Stoke this season.
"We've got a chance of causing an upset but we also know if they get it right in the final third of the pitch there is always a chance you could end up getting your backside slapped."