NELSPRUIT, South Africa, June 24, 2010 (AFP) - Coach Radomir Antic lamented missed opportunities and refereeing errors for Serbia's first-round exit at the World Cup.
The Serbs controlled the first half but fell behind to two goals in a four-minute period midway through the second half in a 2-1 loss to Australia that cost them a spot in the last 16.
Instead Ghana qualified for the knockout phase on goal difference from Australia with Serbia trailing Group D one point away.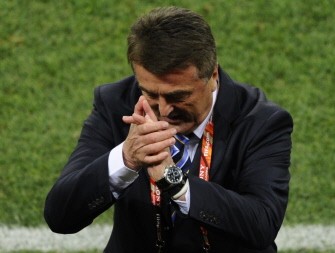 Coach Radomir Antic applauds at the end of the match Australia vs Serbia on June 23, 2010. AFP
"We expected that we would get to the round of 16 and we deserved to get there," Antic said.
"The referee's decisions and opportunities that we didn't seize make us feel sad.
"I cannot reproach any of my players for their efforts. We had plenty of opportunities but in the end I think that we didn't get fair treatment.
"We deserved much more than what happened. We have to go back home now."
Antic said he was angry that Uruguayan referee Jorge Larrionda did not give a penalty to his team in the final minutes when the ball appeared to hit Australian Tim Cahill's hand.
"We are angry when it comes to this decision why the referee and his assistant didn't make the correct decision," Antic said.
"The referee had a black day when it came to Serbia."
Antic substituted key attackers Milos Krasic and Nikola Zigic midway through the second half in a bid to change things, but it was counterpart Pim Verbeek's double substitution in the 66th minute, bringing on Scott Chipperfield and Brett Holman that proved the winning one.
"We wanted to continue with the same rhythm of play in the second half, but we are humans and the missed opportunities depleted our morale," said Antic.
"We had plenty of chances and our opponents were more relaxed. When Tim Cahill scored their first goal that was a shock and we lost our balance.
"We have showed the world that we have a rightful place to be here. Some times when it comes to football it is not the best team who wins."