MELBOURNE, Jan 26, 2010 (AFP) - Defending champion Serena Williams will be aiming to ensure history repeats when she clashes with seventh-seed Victoria Azarenka in the Australian Open quarter-finals on Wednesday.
The world number one has been in imposing form in reaching the last eight, where she will meet the Belarussian for the third successive Australian Open.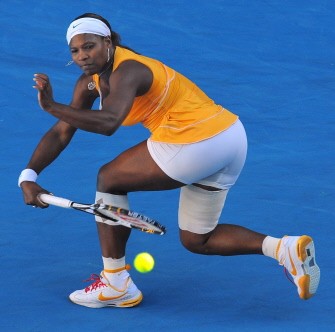 Serena Williams hits a return against Samantha Stosur of Australia in their women's singles fourth round match on day eight of the Australian Open tennis tournament in Melbourne on January 25, 2010. AFP photo
Her sister Venus plays the other quarter-final against Chinese 16th seed Li Na, with the elder Williams keen to add the Australian title to her five Wimbledon and two US Open crowns.
Serena has not dropped a set in her four matches despite being troubled by niggling injuries in both legs.
Her serve has been particularly impressive, holding to love five times from nine games in her fourth round win over 13th-seeded local hope Samantha Stosur.
The Australian subsequently declared her conqueror certain to win her fifth title here.
The performances have come despite Serena having her right thigh strapped throughout the tournament, as well as her left knee, but she said the injuries weren't an issue.
"It's holding up well," Williams said of her body. :I think it's all about adrenaline out there.
"When I step on the court I feel great, even though sometimes before I am struggling."
Serena, who boasts an overall 3-1 record against Azarenka, said her serve was proving an invaluable weapon.
"I think it was all about the serve," she said after beating Stosur.
"Honestly I'm just hoping I can serve again like that, because that was pretty cool.
"It's good to be able to serve well and be consistent with that."
But Azarenka, who has dropped just one set herself in the tournament, has plenty of motivation, having had her previous two Australian Open campaigns ended by the American.
In 2008, Serena beat her in straight sets in the third round, but last year the Belarussian claimed the first set of their fourth round encounter, only to retire due to illness when trailing 4-2 in the second set.
However, the 20-year-old claimed she was not using last year's loss as motivation.
"I'm not going to make up for anything," Azarenka said. "Last year happened and I forgot about it already. I just moved on.
"This is a new year and new challenge for me and I'm just going to go out there and try my best."
Azarenka won the last 10 games in her fourth round win over ninth-ranked Vera Zvonareva, but said even that sort of form would not guarantee success against Serena.
There is a strong chance the Williams sisters will meet in the semi-finals, with sixth seed Venus favourite to beat Li.
Li, who won her only previous clash with Venus at the 2008 Beijing Olympics, will be out to break new ground for Chinese tennis by joining countrywoman Zheng Jie in the semis.
It would be the first time two Chinese players have reached the last four of a Grand Slam.
However, Venus has been largely untroubled in reaching the quarters, dropping only the one set, in beating Francesca Schiavone in the fourth round.
Li said her previous win over Venus, whose best effort here was when she lost the final to her sister in 2003, would count for nought.
"I don't really remember (that match) because it was one and a half years already," she said.
"I mean, it was a good experience for me, but I don't want to always think about the last match.
"I want to be looking forward."
Williams expressed a similar sentiment and said she was aware that Li's strength was her consistency.