MELBOURNE, Jan 30, 2010 (AFP) - Defending champion and top seed Serena Williams powered to her fifth Australian Open title and 12th Grand Slam when she beat a brave Justine Henin 6-4, 3-6, 6-2 on Saturday.
Williams took a tight first set then had to hold off a charging Henin to deny the Belgian a fairytale ending to her tennis comeback in a thrilling final on Rod Laver Arena.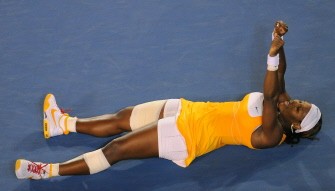 Serena Williams falls to the floor after victory in her women's singles final match against Justine Henin. AFP PHOTO
The American claimed her 12th Grand Slam with the win, putting her alongside fellow American Billie Jean King on the list of all time major winners.
It was fitting that the final was played in front of King and Australian great Margaret Smith Court, who won a record 24 Grand Slams and handed Williams her trophy.
Williams said she hung on grimly as Henin went on a 15-point, five game winning streak midway through the match.
The world number one looked in complete control when she led 6-4 and had a break point on Henin's serve to make it 4-3 with her serve to come.
But the unseeded Belgian then went on her incredible rampage to win the second set and take an early advantage in the third, before Williams stormed back.
"I lost so many points in a row I thought: 'Gosh, I was up 15-40 at one point and could have broke her'," Williams said.
"I just definitely stayed positive," she added. "I had so many chances in the second -- I had so many chances and I didn't capitalise on them.
"So in the third, I knew I would have chances again just to capitalise on that one chance, in that one moment."
Williams' victory ended the fairytale for Henin, who came out of retirement at the beginning of the year and was hoping to emulate Kim Clijsters' feat of winning the US Open on her comeback to tennis.
She said that despite the loss she was still elated at what she had achieved.
"Of course I'm disappointed, I mean, when you lose in the final of a Grand Slam, especially in three sets, and I got a few opportunities that I wasn't able to take," she said.
"But this feeling of disappointment cannot take advantage on all the things I've done in the last few weeks.
"And it's just more than what I could expect. I just have to remember that.
"I'm sure there will be a lot of positive things I can think about in a few days," she added.
"It's been almost perfect. Just the last step, I couldn't make it."
Williams was made to work hard by the tenacious Henin, playing only her second tournament since coming out of retirement and needing a wildcard to enter.
In the end it was her sheer power that won out as her huge serves and booming groundstrokes eventually wore Henin down and forced costly errors.
Williams served better throughout, making 64 percent of her first serves as opposed to Henin's 55 percent, with many of those unplayable.
Henin showed, however, that she is still a real force and capable of adding to her seven Grand Slam titles.
"She can go really far. As you saw, she took me to the umpteenth level," Williams said.
"She clearly hasn't like lost a step at all since she's been gone."
Williams opened the match ominously with a swinging ace but a fired up Henin stayed with the world number one for much of the first set.
They broke each other once in the early stages of the set but with Henin serving at 4-5, Williams took advantage of two double faults to break again and take the set in 51 minutes.
Williams then looked in control of the second set, and the match, until Henin went on her hot run to level the final.
When the Belgian took the first game of the third set and had Williams at 15-40 on serve it looked as though her comeback would be complete.
But Williams showed her true championship qualities to dig in and finish stronger than an increasingly tired Henin.
"She's a real champion," said Henin.