NEW YORK, Sept 12, 2009 (AFP) - Serena Williams was booted out of the US Open on Saturday after hurling threatening abuse at a lineswoman.
The incident marred the end of her semi-final loss to Kim Clijsters after the official had foot-faulted her to set up match point to the Belgian.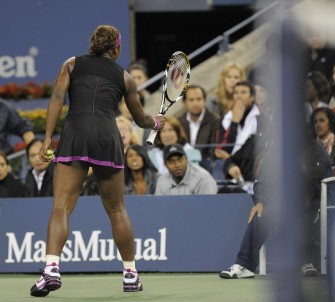 Serena Williams points her racquet at a umpire during their Women's Semi-Final US Open match September 12, 2009 in New York (AFP PHOTO)
The title-holder and tournament favourite was 6-4, 6-5 and 15-30 down when the sanction was called against her on her second serve setting up match point for Clijsters.
She turned angrily to the lineswoman and shouted at her while stabbing her racquet in her direction.
According to some reports she told her: "If I could, I would take this ... ball and shove it down your ... throat and kill you."
The lineswoman then ran up to umpire Louise Engzell to report the incident which brought tournament referee Brian Earley onto the court.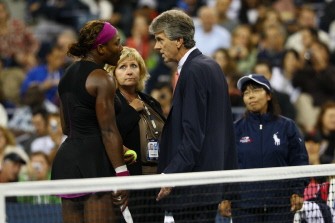 Serena Williams (L) argues with Brian Early (R) and Donna Kelso (C) after disqualified for a default during the Women's Singles Semifinal match (AFP photo)
Williams again remonstrated with the lineswoman over her version of what had happened, at one point telling her "I never said I would kill you."
She then stormed off to the other side of the net to shake hands with Clijsters when she understood she had been penalised a point on match point for verbal abuse.
"I said something that I guess they gave me a point penalty for. Unfortunately it was on match point," she said.
"No, I didn't threaten her," she said when asked what she had said.
"I don't remember anymore, to be honest. I was in the moment. And, you know, everyone's fighting for every point. It was a really crucial point, 15-30, actually.
Williams, an 11-times Grand Slam winner, who has just brought out a autobiography ironically titled "On the Line", said that she had never been in a fight in all her life and would never have threatened anyone.
But she did say that yelling at linesmen was relatively commonplace among top tennis players.
"Well, how many people yell at linespeople?
"All the people that, you know, kind of yell at linespeople, I think it kind of comes sometimes.
"Players, athletes get frustrated. I don't know how many times I've seen that happen."
Williams had appeared edgy and uncomfortable throughout a match that had originally been scheduled for Friday afternoon but had been repeatedly delayed because of rain that swept in over the New York area from late Thursday and wiped out all play on Friday and most of Saturday.
The game eventually got underway in damp, cold conditions after 9:00 pm on the Arthur Ashe Stadium court and Williams was under pressure from the start.
She drew a first code violation from the chair umpire for angrily smashing her racquet on the ground after netting a backhand to concede the first set and her mood seemed to fluctuate between aggression and despair.
"I'm a really, really intense player, and I always have been," she explained when asked about her mood.
"I mean, my idol is John McEnroe and Martina Navratilova, so and Monica Seles, actually. It's kind of a big mixture.
"But I just am a really intense person, and I give 200 percent in everything I do, whether I'm playing tennis or whether I am doing something else.
"I just go for it."
Asked about her opinion of what happened at the end of the match, Clijsters said she had taken a back seat.
"To be honest with you, I didn't even want to be involved, just because in my mind I was still focused. Okay, Kim, don't lose focus. You still need to win this last point here," she said.
"I just tried to stay away against the back of the court and tried to stay away from everything."
"It's unfortunate that a match that I was playing so well at had to end that way."