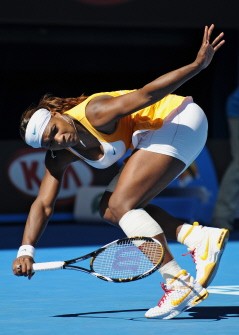 Serena hits a return against Victoria Azarenka of Belarus in their women's singles quarter-final match on day 10 of the Australian Open tennis tournament in Melbourne on January 27, 2010. AFP photo
MELBOURNE, Jan 27, 2010 (AFP) - Serena Williams staged a stunning comeback from the brink of defeat to make the Australian Open semi-finals on Wednesday, but sister Venus was eliminated by China's Li Na.
The defending champion and 11-time Grand Slam winner was down 4-6, 0-4 to seventh seed Victoria Azarenka before she got back on track, winning a tense tiebreaker 7/4 to level the match.
Azarenka was rattled and Serena rammed home her advantage in the final set to win 4-6, 7-6 (7/4), 6-2 and set up a last four clash with Li, who also came from behind to shock Venus 2-6, 7-6 (7/4), 7-5.
Thursday's other semi-final is between comeback queen Justine Henin and the unseeded Zheng Jie, with China having two players in the last four of a Grand Slam for the first time.
Fifth seeded Andy Murray plays 14th seed Marin Cilic in the first men's semi-final on Thursday with Roger Federer facing Nikolay Davydenko and Novak Djokovic against Jo-Wilfried Tsonga in quarter-final action later Wednesday.
Serena had been in imposing form in reaching the last eight, but she made a string of unforced errors and battled to control her serve early against the Belarussian, who she beat here last year on her way to the title.
But with her left knee and right thigh bandaged, she began to swing freely and her game snapped back to its dominant best.
Williams found it hard to believe she won after having been down two service breaks in the second set.
"I am surprised and I am just happy to still be here," she said. "I didn't expect to win when I was down 0-4.
"I was like 'well at least I am still in the doubles'.
"I was thinking if I lost today and lost the doubles I could get a flight home on Friday."
Venus should have made it a sister act in the semis, but she threw it away against Li in a scrappy match where they made a incredible combined 110 unforced errors.
She was one set and 4-2 up in the second when Li made her move, becoming relaxed as she began to play with greater freedom.
At the same time, Venus tightened up as her forehand went to pieces on Rod Laver Arena.
Venus, who has won seven Grand Slam titles but never been at her best in Melbourne, making only one final in 11 attempts, said Li had been the better player.
"I think I was playing good tennis -- I don't think it has anything to do with whether I was playing good," she said.
"I have to give her a lot of credit for playing well and picking her game up."
Making the semi-finals of a Grand Slam for the first time was a dream come true for the Chinese 16th seed.
"It's the best day of my whole life," an exuberant Li said.
"It's good for both players and it's good for Chinese tennis."
The 17th-ranked Li set herself a goal this year of breaking into the top 10, and will now achieve that after reaching the semi-finals.
"It's so exciting, maybe I'll have a beer tonight," a smiling Li said.
"I don't know because my goal this year was top 10, but now it's only January, so it's come quickly."
When asked whether she will dream about reaching the top five she replied: "Maybe -- why not?"