This morning, July 7, Sai Gon Giai Phong Online Newspaper presented awards to ten readers for correct prediction of the Euro 2012 football matches and for submitting excellent articles on their feelings of the world football championship.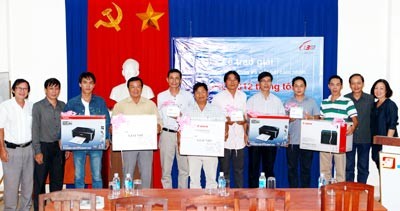 Awards ceremony of the SGGP Euro 2012 football prediction contest (Photo: SGGP)
The contest was hosted by SGGP Online Newspaper during the duration of the Euro 2012 football matches and financed by Le Bao Minh Joint Stock Company.
The contest lured more than 2,000 attendees, from which SGGP selected the top ten winners.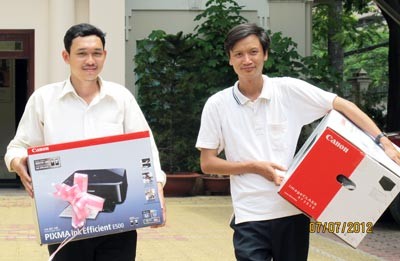 Two of the winners from Binh Phuoc Province (Photo: SGGP)
One of the top ten winners is from Cai Lay District in the Mekong Delta province of Tien Giang and two are from Bu Gia Map District in the southeastern province of Binh Phuoc.