Sai Gon Giai Phong (SGGP) Newspaper yesterday held a press conference of the 2016 Vietnamese Golden Ball Awards at its head office to announce regulations on the nomination of the best candidates for this award.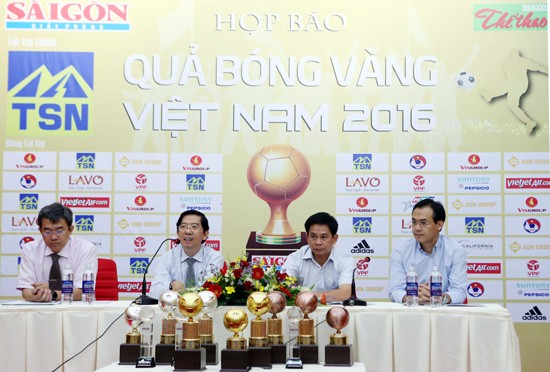 The organizational board answered journalists at the press conference of the 21st Vietnamese Golden Ball Awards.
Attending in the ceremony were leaders of the Ho Chi Minh City Culture and Sports Department, Vietnam Football Federation, HCMC Football Federation and sport journalists in the country
The Vietnamese Gold Ball Awards was launched in 1995 for the first time with its target of honoring and recognizing contributions and achievements of the Vietnamese football players during a year.
Speaking at the press conference, deputy editor- in –chief of the SGGP Newspaper Nguyen Thanh Loi said that the organization board gave supplementary of the best futsal players into this award to raise their great contributions for the country's sport industry during this year.
Accordingly, the winner of the 21st Vietnamese Golden Ball Awards and the organizational board will visit ten ex- winners to commemorate their contributions.
This year, the organizers has approved the title of the best favorite players which is voted by fans via message text.
Before ending the press conference, the organizers showed a list of 2016 Vietnamese Golden Ball Nominations.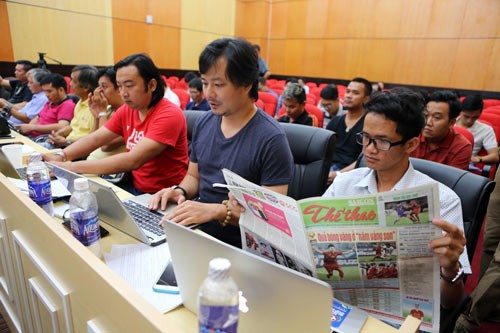 Sport journalists attended in the press conference.
There is the official list for six nomination categories:
Candidates of the Vietnamese Golden Ball Awards 2016 for male players consist of Nguyen Trong Hoang, Pham Thanh Luong, Tran Nguyen Manh, Hoang Vu Samson, Le Van Thang, Vu Van Thanh, Ngo Hoang thinh, Nguyen Van Toan, Dinh Thanh Trung, Vu Minh Tuan, Nghiem Xuan Tu, Hoang Dinh Tung, Luong Xuan Truong, Le Cong Vinh.

Candidates for the best male young footballer consist of Ha Duc Chinh, Ho Minh Di, Bui Tien Dung (PVF Club), Bui Tien Dung (Thanh Hoa Club), Nguyen Trong Dai, Nguyen Quang Hai, Vu Van Thanh, Tran Thanh, Nguyen Van Toan.
Candidates for 'The best foreign football player' awards: Pape Omar Faye, Uche Iheruome, Gonzalo, Gaston Merlo, Dyachenko, Anthony Stevens.
Nominees for the 2016 Women's Gold Ball Awards consist of Nguyen Thi Tuyet Dung, Chuong Thi Kieu, Le Hoai Luong, Nguyen Thi Muon, Huynh Nhu, Bui Thi Nhu, Nguyen Thi Minh Nguyet, Dang Thi Kieu Trinh, Nguyen Thi Xuyen, Pham Hai Yen.
Candidates for the best male young footballer: Ngueyn Thi Minh Anh, Le Thi Cuc, Nguyen Thi Thuy Hang, le HOai Luong, Ngueyn Thi Tueyt Ngan, Tran Thi Hai Yen.
Candidates for the 2016 Golden Futsal: Mai Thanh Dat, Ngueyn Dinh Y Hoa, Ngueyn Van Huy, Phung Trong Luan, Nguyen Bao Quan, Ngo Ngoc Son, Ngo Dinh Thuan, Nguyen Minh Tri, Tran Long Vu, Tran Van Vu.

The award ceremony is scheduled to take place at Ben Thanh Theater in HCMC at 8pm on January 4, 2017.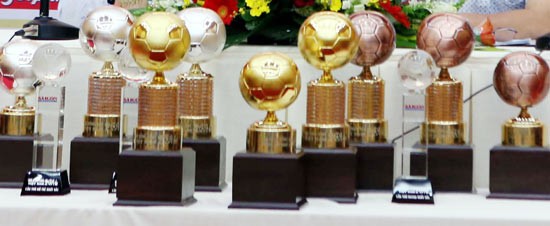 Gold, silver and bronze cups for the winners