Sai Gon Giai Phong reporter Hoang Hung was awarded first prize at a photo competition, "Cannon – Vu dieu san co 2009" (Dance on the Football Pitch), for his work "Vu dieu tren khong" (Dance in the Air) at a ceremony held in Hanoi September 4.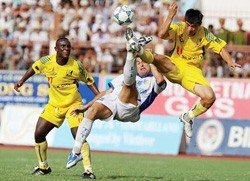 "Dance in the Air" by SGGP reporter Hoang Hung, who won first prize at the photo competition "Cannon – Vu dieu san co" 2009 (Photo: SGGP)
The ceremony closed the sixth and final round of the contest, with 800 photos by 70 photographers from the around the country having been submitted.
Du Hai from The Thao TPHCM (HCMC Sports) got second prize and one consolation prize for two photos, "Tranh chap" (Dispute) and "Hanh phuc" (Happiness).
Quang Nhut from Vietnam News Agency received third prize for "Quyet liet" (Drastic).
The competition was centered around and took place over six months of Vietnam's football V-League, First Division and Sino Cup.
Total value of awards this year was US$6,000, double that of last year's competition.
Under the organization of Canon, Today Sport newspaper and the Vietnam Football Federation, the competition was held to honor the beauty of Vietnamese football and supporting Vietnamese talents in photography.