WOLVERHAMPTON, England, May 23, 2011 (AFP) - Mick McCarthy refrained from "dancing with my knickers on my head" but that was the sense of elation the Wolves manager felt as his side avoided relegation from the Premier League.
Wolves lost 3-2 at home to Blackburn on the final day of the season but remained in the English top flight by a point after Midlands rivals Birmingham were demoted following a 2-1 loss away to Tottenham Hotspur on Sunday.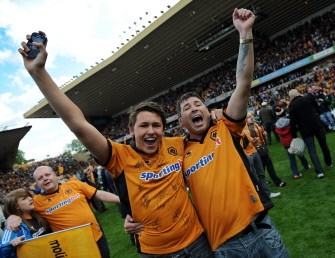 AFP - Wolverhampton Wanderers' fans celebrate on the pitch after the English Premier League football match between Wolverhampton Wanderers and Blackburn Rovers
It seemed Wolves were heading back to the second tier of English football as they fell 3-0 behind, in front of their own fans, before half-time at Molineux.
Goals from Jason Roberts, Australia's Brett Emerton and Junior Hoilett all but assured Blackburn, who kicked off in mathematical danger of relegation, of another season of Premier League football.
At one stage, before Tottenham's victory was confirmed, it seemed Wolves -- who got back into the match through Jamie O'Hara's 73rd minute goal were heading for the trap door.
But Stephen Hunt handed the fans what they thought was a lifeline with an equaliser just three minutes from time, although Spurs' win meant Wolves would have stayed up in any event.
"I am thrilled and I am very proud of the players," McCarthy said. "I am shattered physically and emotionally. I went through the wringer. I feel like I should be dancing up and down with my knickers on my head. I can't do that, because I have to stay professional, but that is how I feel.
"I said all along that it would come down to May 22 and it might even be goal difference or goals scored. I do not even know the exact outcome. All I knew at the end of the game was that we had stayed up."
Hunt's goal was potentially worth £50 million -- the value to Wolves of staying in the Premier League -- and helped the Republic of Ireland midfielder avoid an unwanted relegation hat-trick of English top flight after he'd previously gone down with both Reading and Hull City.
"At half-time, I couldn't look the manager in the eye," Hunt said. "I don't think anyone could. We didn't know what to say.
"We were down in the dumps but Mick got us going again with his team talk.
"It was the most stressful day of my football career. I'll enjoy the moment," he added.
"The couple of goals we got were vital because it changed the way other teams had to play. Birmingham had shut up shop and then they had to go for it in the end and got beat.
"I heard the fans singing 'we need one more goal' and I don't think I have hit a more sweet shot or a more important one. We were mentally strong."
Blackburn rounded off the season with a four game unbeaten run and Rovers boss Steve Kean, who replaced sacked former manager Sam Allardyce in December, pointed to exciting times ahead for the Lancashire club.
Despite rumours former Liverpool manager Rafael Benitez was being lined up to replace him at Ewood Park, Kean insisted he'd held constructive talks with Venky's, the India-based poultry firm that owns Rovers.
"I have had very positive meetings with the owners and there will be investment, because they are ambitious and they want to take the club forward," Kean said.
"We want to keep our best players and keep the group together," the Scot added. "The future is exciting and we have a lot of good young players. We know what areas of the team we would like to improve."