Singapore ranked first in the 20th Golden Racket International Table Tennis Tournament in Ho Chi Minh City with four golds, two silvers and two bronzes.
The Singapore team obtained the four gold medals in the men's team, women's team, women's singles and mixed doubles.

The results matched well with the tournament organizing committee's prediction before the competition, staged at Phan Dinh Phung Stadium, for Singapore sent their best players to this year's tournament.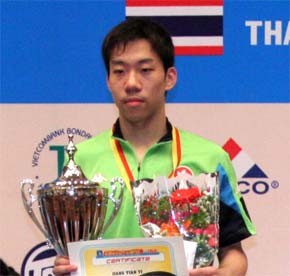 Jiang Tian Yi receives the gold and the trophy. (Photo: SGGP)
In the men's singles, Jiang Tian Yi from Hong Kong beat Guangxi's Ling Wei Chao 4-3 and won the championship.
Singapore's Sun Bei Bei took the first place in the women's singles after defeating her teammate Tan Paey Fern 4-2.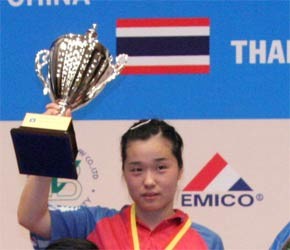 Sun Bei Bei takes the trophy. (Photo: SGGP)
Singaporean ping-pong stars continued to secure gold and silver medals in the mixed doubles while the doubles from Hong Kong and China's got the bronzes.
Golden Racket Results
Men's single: Jiang Tian Yi (Hong Kong)
Women's single: Sun Bei Bei (Singapore)
Men's team: 1-Singapore 2-Viet Nam 3-Korea
Women's team: 1-Singapore 2-China 3-Korea
Men's doubles
1- Go Jae Bok, Hwang Sung Hoon (Korea)
2- Kim Nam Soo, Lim Young Jun (Korea)
3- Tran Tuan Quynh, Nguyen Nam Hai (Viet Nam)
Women's doubles
1- Nanthana Kom Wong, Anisara Muangsuk (Thailand)
2- Xu Jie, Jia Lin Qing (China)
3- Ko So Mi, Kim Soo Yuon (Korea); Lee Kyeo La, Kwon Yeon Ock (Korea)
Mixed doubles
1- Gao Ning, Sun Bei Bei (Singapore)
2- Cai Xiao Li, Zhang Xue Ling (Singapore)
3- Fan Xu Dong, Wu Wei (China); Jiang Tian Yi, Yu Kwok See (Hong Kong)
Related articles
S'pore Win Both Team Categories, VN Men Secure Team Silver

S'pore Challenge Other Teams in Golden Racket Table Tennis Tourney