LONDON, April 2, 2010 (AFP) - Arsenal goalkeeper Manuel Almunia believes his side cannot afford to drop another point if they are to win the Premier League title.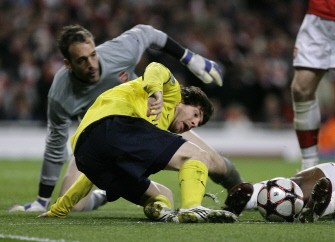 Arsenal's Spanish goalkeeper Manuel Almunia (L) vies with Barcelona's Argentine striker Lionel Messi (R) during their UEFA Champions League quarter-final 1st leg football match against Arsenal at the Emirates Stadium, England, on March 31, 2010. AFP PHOTO
The Gunners host Wolves on Saturday having come back from 2-0 down to draw 2-2 with Barcelona in the Champions League quarter-finals in midweek.
Arsene Wenger's side will kick off at the Emirate Stadium in third place but also knowing how far Manchester United and Chelsea are ahead as their title rivals will already have played each other at Old Trafford.

A draw there would certainly suit the Gunners but only if Arsenal, who must still play Tottenham and Manchester City as well, continued to impose maximum pressure, Almunia argued.
"We have six games left now and we must record six victories," said the Spaniard. "We will have to wait to see if Manchester United drop points as well but we still have a chance of winning it.
"We just have to win our six games and see what happens."
Whatever happens when Mick McCarthy's 14th-place side come to the Emirates will be hard pushed to match the drama of Wednesday night, when goals from substitute Theo Walcott and captain Cesc Fabregas cancelled out a double from Zlatan Ibrahimovic.
The stirring comeback was achieved at a cost as Fabregas, William Gallas and Andrey Arshavin all suffered injury.
Arshavin and Gallas are expected to be sidelined with calf injuries for up to three weeks.
But inspirational captain Fabregas is out for the rest of the domestic campaign with a broken leg.
The inevitable reshuffling of resources could open the door for England winger Walcott to play a key part in keeping the season alive. Barcelona could not cope with his pace down the right and it would be no surprise if he started on Saturday.
Defender Thomas Vermaelen praised the 21-year-old for his contribution against the Champions League holders.
"At the end of the game we were physically a lot stronger than them," he said. "They were a little bit tired and with Theo's pace you can create a little bit of danger and that's what he did."
Wolves fans will be hoping the Arsenal players will have one eye on the second leg decider in Barcelona on Tuesday night but McCarthy wasn't counting on it.
"I don't know if us playing them in between two Champions League games makes any difference," he said. "But they have got a squad to cope with it. They have got the size of the pitch going for them as well."
McCarthy did promise that his side would be more competitive than they were in November, when Arsenal won 4-1 at Molineux. "We played well against them for 30-odd minutes at our place and we are a better outfit than we were then," he said. "We're not perfect but we're certainly better than we were."
Midfielder Dave Edwards revealed Wolves' tactics would hinge on soaking up pressure and attacking quickly on the break.
"They are a team that you can hit on the counter attack," he said. "Hopefully if we can defend well and, with the likes of Kevin Doyle up front and Matt Jarvis playing very well at the moment, hit them on the counter attack."
Wolves will arrive at the Emirates in the middle of one of their best spells of form this season, having taken eight points from their last four matches to haul themselves five points clear of the relegation zone.