PARIS, June 6, 2011 (AFP) - Rafael Nadal believes his sixth French Open triumph can pave the way for successful defences of his Wimbledon and US Open titles which would boost his Grand Slam collection to twelve.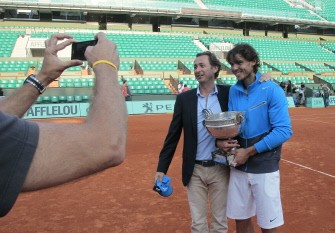 AFP - Rafael Nadal (L) poses with his agent Benito Perez Barbadillo after winning over Switzerland's Roger Federer in the men's final in the French Open tennis championship at the Roland Garros stadium, on June 5, 2011, in Paris.
World number one Nadal equalled Bjorn Borg's record of six Roland Garros titles with a 7-5, 7-6 (7/3), 5-7, 6-1 win over old rival Roger Federer as he took his career Paris record to 45 victories against just one defeat.
It was also his 17th win in 25 meetings against Federer and the perfect tonic as he plans to thwart the Swiss star's hopes of regaining his Wimbledon title next month.
"The French Open is always the most special tournament for me and it gives me my biggest chance of the year. So if I win here, I know my year is going to be fantastic," said the 25-year-old Spaniard.
"There will be less pressure on me for the remainder of the season. I will have better confidence. To win here is important for every year. When that happens, in general, I always have a successful season.
Twelve months ago Nadal's fifth Roland Garros teed him up for victory at Wimbledon and the US Open.
His confidence for the rest of the year has also been boosted by the manner in which he triumphed on Sunday.
He arrived in Paris having lost four successive Masters finals to Novak Djokovic, the last two of which were on Nadal's beloved clay in Madrid and Rome.
He struggled in his first round here, having to come back from two sets to one down to defeat America's John Isner.
A world-weary Nadal then announced that he wasn't playing well enough to win a sixth French Open and complained that he felt as if he had been on the tour for 100 years.
His ability to turn his fortunes around so quickly made his 2011 French Open victory even sweeter.
"Every title is special. Sometimes when you have to fight a lot to change things it is even more special," said Nadal, who compared Sunday's tough victory to his 2008 stroll over Federer.
Back then, he allowed the Swiss just four games, the most one-sided Roland Garros final in 30 years.
"In 2008 I was playing better than ever. But I didn't feel as if I had won Roland Garros. I played fantastic tennis with very few tough moments.
"When you have to come back from tough moments, victories are more special for sure. This title is very important and I am happy that the work has paid off."
Despite his dark mood earlier in the competition, Nadal said he always knew he could find a way out of trouble and with Federer having ended Djokovic's remarkable 43-match winning run in the semi-finals, the door to victory was ajar.
"I came to Paris with less confidence than other times because I saw Novak playing fantastic. But I was practising well and I knew that being able to play well on the court would not be too far away. If I didn't I would be going home."
Next up for Nadal is the Queens Club tournament and re-acquainting himself on grass ahead of Wimbledon where he has twice been champion in 2008 and 2010.
"I will practise on Monday, play doubles on Tuesday and singles on Wednesday. It's always a big change for me having to go to the grass even though I have had success in the past.
"I have to remember what I did well in the past and what I have to do to adapt. But winning in Paris means I can play Queens and Wimbledon with less pressure."